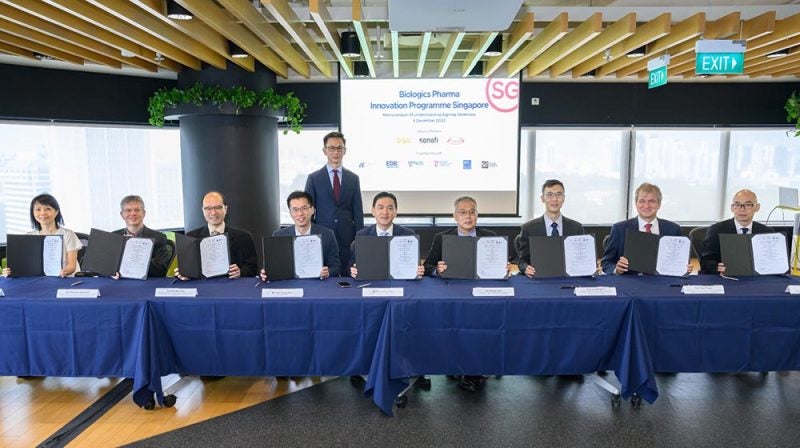 GSK, Sanofi and Takeda are set to collaborate with researchers from the Agency for Science, Technology and Research (A*STAR), National University of Singapore (NUS), Nanyang Technological University, Singapore (NTU Singapore), NTUitive and Singapore Institute of Technology (SIT) to boost biologics and vaccine manufacturing expertise in the country.
This collaboration will be validated through the consortium, Biologics Pharma Innovation Programme Singapore (BioPIPS), initiated by A*STAR with the Singapore Economic Development Board's (EDB) support.
BioPIPS plans to utilise research and innovation to enhance the biologics manufacturing expertise of Singapore, which comprises recombinant therapeutic proteins and vaccines.
Through the consortium, leading industry specialists and the research ecosystem of Singapore will join forces to boost manufacturing productivity, enhance operational efficiency and attain sustainability goals.
Additionally, BioPIPS intends to equip the country's biologics production expertise for launching new products and manufacturing technologies.
The solutions created through BioPIPS will also boost the country's capacity for meeting the rising demand for biologics and vaccines throughout the world. It will also provide pharmaceutical firms in Singapore with the resources needed for expanding and responding quickly to pandemics in the future.
Sanofi EVolutive Facility site head Koh Liang Hong said: "Sanofi is building a next-generation manufacturing site, the EVolutive Facility, in Singapore, which will bring advanced digital and modular vaccine production capabilities to the Asia region.
"The BioPIPS programme's focus on transforming biologics and vaccines manufacturing through pre-competitive partnerships is aligned with Sanofi's vision for the EVolutive Facility to continuously push the envelope of innovation for biopharmaceutical manufacturing."
In November, A*STAR and RVAC Medicines entered a master research collaboration agreement to develop solutions for building mRNA manufacturing and analytics expertise in the country.