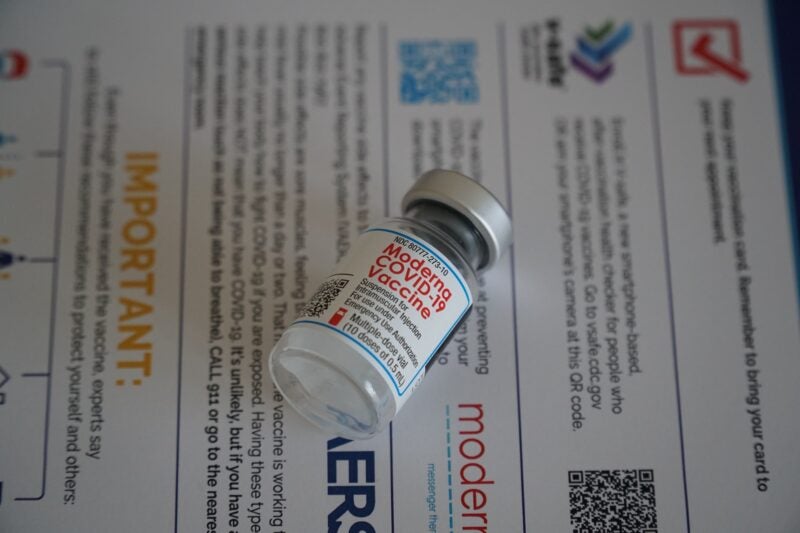 Health Canada has granted authorisation for Moderna's BA.4/BA.5 Omicron-targeting bivalent Covid-19 booster vaccine, mRNA-1273.222, for people aged 18 years and above.
The 50µg vaccine is indicated for usage as a booster shot for active immunisation against Covid-19.
It comprises 25µg of messenger ribonucleic acid (mRNA) encoding for the SARS-CoV-2 virus BA.4/BA.5 Omicron variants' spike protein and 25µg encoding for the virus' initial strain.
The latest authorisation is based on the pre-clinical findings for mRNA-1273.222 and results from a Phase II/III clinical trial of mRNA-1273.214 (SPIKEVAX Bivalent), which acts on the Omicron BA.1 subvariant.
According to findings, a booster dose of mRNA-1273.214 raised neutralising geometric mean titers against Omicron BA.1 by nearly eight-fold above baseline levels.
Additionally, 28 days following inoculation, this vaccine showed enhanced neutralising antibody responses against Omicron BA.4/BA.5 versus mRNA-1273.
A Phase II/III trial of mRNA-1273.222 is currently progressing and has concluded enrolment.
The company anticipates preliminary findings from this trial later this year.
mRNA-1273.222 is said to be the second bivalent Covid-19 shot of the company to obtain Health Canada approval.
The regulatory agency approved the usage of mRNA-1273.214 in September.
Moderna Canada president and general manager Patricia Gauthier said: "This approval demonstrates that our mRNA platform enables rapid development of vaccines and various options to address variants of concern.
"We are proud to collaborate with Health Canada to bring Omicron-targeting bivalent vaccines to Canada to help broaden population immunity and protect Canadians against current and potential future variants of concern."
In September, the European Medicines Agency (EMA) accepted the company's submission seeking Conditional Marketing Authorization (CMA) variation for mRNA-1273.222 for individuals aged 12 years and above.
Cell & Gene Therapy coverage on Pharmaceutical Technology is supported by Cytiva.
Editorial content is independently produced and follows the highest standards of journalistic integrity. Topic sponsors are not involved in the creation of editorial content.