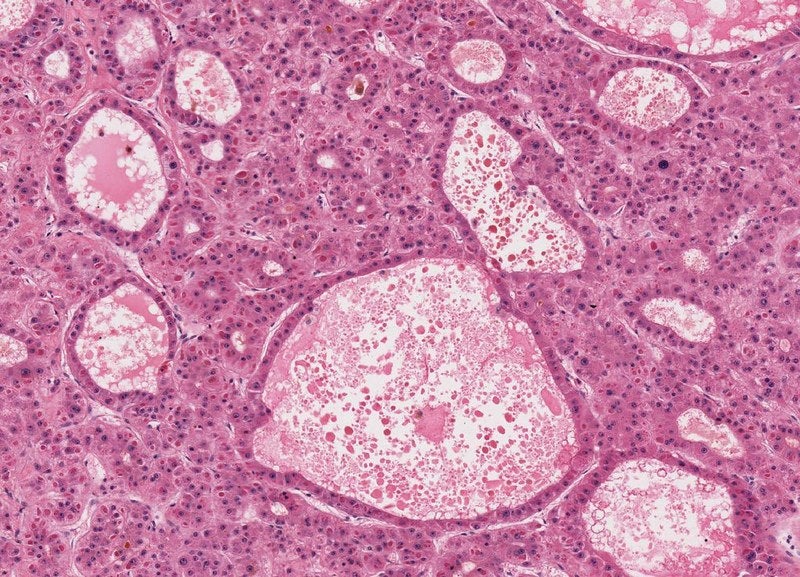 Eli Lilly has obtained US Food and Drug Administration (FDA) approval for the use of its Cyramza (ramucirumab injection, 10mg/ml solution) as a monotherapy to treat hepatocellular carcinoma (HCC).
As a biomarker-driven therapy, the drug is indicated for patients with less than or equal to 400ng/ml alpha-fetoprotein (AFP) that have previously received sorafenib treatment.
AFP is a prognostic biomarker that is detected using a simple blood test. The biomarker is expected to help identify patients that may benefit from treatment, as well as monitor advanced HCC progression.
Cyramza is an antiangiogenic therapy that selectively binds to vascular endothelial growth factor receptor 2 (VEGFR-2). The FDA's approval is based on data obtained during the Phase III REACH-2 clinical trial conducted in a biomarker-selected patient population.
The global, randomised, double-blind, placebo-controlled trial met its endpoints, demonstrating a statistically significant benefit in the primary endpoint of overall survival (OS) and the secondary endpoint of progression-free survival (PFS).
During the study, the drug was discontinued in 18% of patients due to adverse reactions, where proteinuria occurred most frequently.
Lilly Oncology president Anne White said: "This new indication for Cyramza further reinforces Lilly's ongoing commitment to delivering meaningful medicines that are tailored for people with advanced cancers and the physicians that work in partnership with them.
"Our work is focused on helping people who are living with cancer and Lilly is making strides in its efforts to develop precision medicine-based therapies for patients, to give them a fighting chance against their disease."
"Lilly is making strides in its efforts to develop precision medicine-based therapies for patients."
Concurrent with the approval, the FDA has removed the warning from Cyramza's labelling regarding haemorrhage, gastrointestinal perforation and impaired wound healing.
This is the fifth approval for Cyramza, which is indicated for advanced forms of gastric and gastroesophageal junction adenocarcinoma, metastatic non-small cell lung cancer and metastatic colorectal cancer.