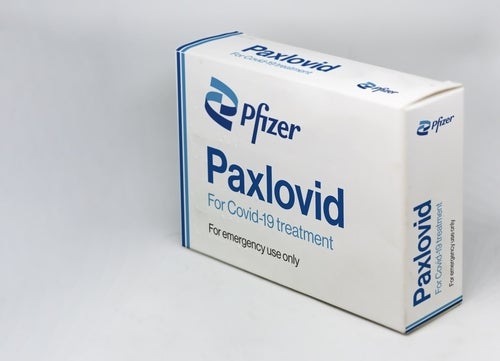 Efforts to conduct research utilizing Pfizer's novel oral antiviral, Paxlovid (nirmatrelvir/ritonavir), are consistently hampered by the company, according to the DNDi.
The DNDi, representing 26 global and African research organizations, states that Pfizer's licensing agreements effectively blocks the availability of Paxlovid to sublicensees and generic manufacturers for both research and clinical use in low and middle-income countries.
The DNDi advocates that Pfizer should provide access to Paxlovid for clinical trials and remove restrictions in the licensing agreement, to enhance the range of care and broaden the accessibility of Paxlovid. DNDi notes the impact on countries that participated in the ANTICOV study, conducted by the DNDi, to be most likely affected by the licensing limitations are Burkina Faso, Cameroon, Côte d'Ivoire, the Democratic Republic of Congo (DRC), Equatorial Guinea, Ethiopia, Ghana, Guinea, Kenya, Mali, Mozambique, Sudan, and Uganda. ANTICOV claims to be the largest clinical trial in Africa for people with Covid-19 to test new drug combination.
This situation is reminiscent of Merck's oral Covid-19 antiviral deal, which excluded access to many upper middle-income countries, as previously reported by GlobalData
According to Pfizer, the company recognizes the significance of collection and sharing of data to help maximize the response to the pandemic on a global level. A spokesperson says the company is "committed to conducting well-controlled, hypothesis-driven clinical studies that can provide data that will be accepted by global regulatory agencies and therefore maximize the potential benefit for patients".
Paxlovid timing in treatment crucial
Paxlovid is an antiviral medicine used to treat mild-to-moderate Covid-19, in patients at high risk for progression to severe Covid-19, that may lead to hospitalization or death. Paxlovid is recommended as a first-line treatment for eligible Covid-19 patients, following hospital admission in the UK. Another oral antiviral, Lagevrio (molnupiravir) porduced by Merck, which had similar licensing concerns to Paxlovid, is a recently established third-line treatment option in the UK.
Pavloxid displayed a reduction in relative risk of Covid-19-associated hospitalization or death by 88% in patients who received the treatment within five days of symptom appearance. This observation is a significant milestone in the current treatment of Covid-19 and potential following waves of the pandemic.
This finding is crucial especially for a population of vulnerable, immunosuppressed patients and people with limited access to vaccines. However, Paxlovid must be taken within 3-5 days of symptom onset to exhibit beneficial effects, while most of patients do not seek care this early on in their disease course. The aim of combination studies will be to expand the therapeutic window to 5-7 days in immunocompetent patients and hopefully further extend it in immunosuppressed patients, according to the DNDi.
To attempt to overcome this obstacle in Paxlovid treatment, it is necessary to investigate the combination of Paxlovid with other drugs in combination research studies to widen its treatment window. Expanding Paxlovid's therapeutic window to seven days will render the drug more beneficial to a larger patient population. According to the DNDi, potential drugs that could be tested in combination studies with Paxlovid include fluoxetine and other antivirals, however "the choice of collaborators will highly depend on preclinical work that will explore additive antiviral effects within acceptable safety margins".
Combinations could be key to opening therapeutic window
The DNDi says Pfizer's refusal to allow the use of Paxlovid in combinatory clinical trials and generics manufacturing raises serious public health concerns, especially for patients in low- and middle-income countries, where vaccine supply and access is limited.
Paxlovid's short treatment window poses a particularly significant challenge for treatment of patients in these countries, due to insufficient and suboptimal access to testing. An examination of the ANTICOV study established that over half of the participants enrolled in the trial five days postsymptom onset, which calls into question Paxlovid's potential benefits.
Taking these findings into consideration, Dr Nathalie Strub-Wourgraft, DNDi'S Covid-19 Response and Pandemic Preparedness director, states there is a need to "study the efficacy of Paxlovid in combination with inhaled budesonide  in patients presenting later in the disease, to provide the scientific evidence that will allow to safely extend that treatment window to prevent disease progression, hospitalization and even death."
The Pfizer spokesperson says the company has informed research groups that it intends to explore Paxlovid in similar combination studies and subsequently share relevant information.
Ensuring equal access to Paxlovid on a global level remains its highest priority, the company says, adding it is focusing on the expansion of its own supply chain while simultaneously "licensing through the Medicines Patent Pool (MPP) to better reach the most vulnerable parts of the world".
The terms of the licensing agreement between Pfizer and MPP allow generic manufacturers with granted sublicenses to supply Paxlovid in 95 countries. These 95 countries account for almost 53% of the global population and will include all low- and lower-middle-income countries in sub-Saharan Africa.
Pfizer has also "entered into licensing agreements with multiple countries, is collaborating with WHO and its partners in the Therapeutics pillar of the Access to Covid-19 Tools Accelerator (ACT-A)" and is "sharing information about their treatment, pricing strategy and supply projections". Pfizer is also in direct communication with multiple private partners and international organizations to address Paxlovid's needs in low-income countries, the spokesperson says.
The DNDi argues that Pfizer's actions and licensing restrictions are causing delays in research that may have detrimental effects for patients in low- and middle-income countries. Strub-Wourgraft states that such a delay may lead to hospitalization and even fatalities of thousands of patients with a risk of progressing to a severe form of Covid-19, since access to other alternative injectable treatments in low and middle-income countries is also limited.
Paxlovid's future use
According to the DNDi and the currently available data, Paxlovid will remain a promising treatment option for the general population who will be able to gain access to it within five days of symptom onset. Paxlovid shows efficacy in the SAR-CoV-2 variants of interest, specifically Alpha, Beta, Gamma, Delta, Lambda, Mu, and Omicron.
However, the drug will hold a greater value and will target a larger population if its treatment window can be investigated and successfully extended. The administration of a second antiviral in combination with Paxlovid can reduce the risks of resistance development both in immunocompromised patients and in the case of poor patient compliance, says DNDi.