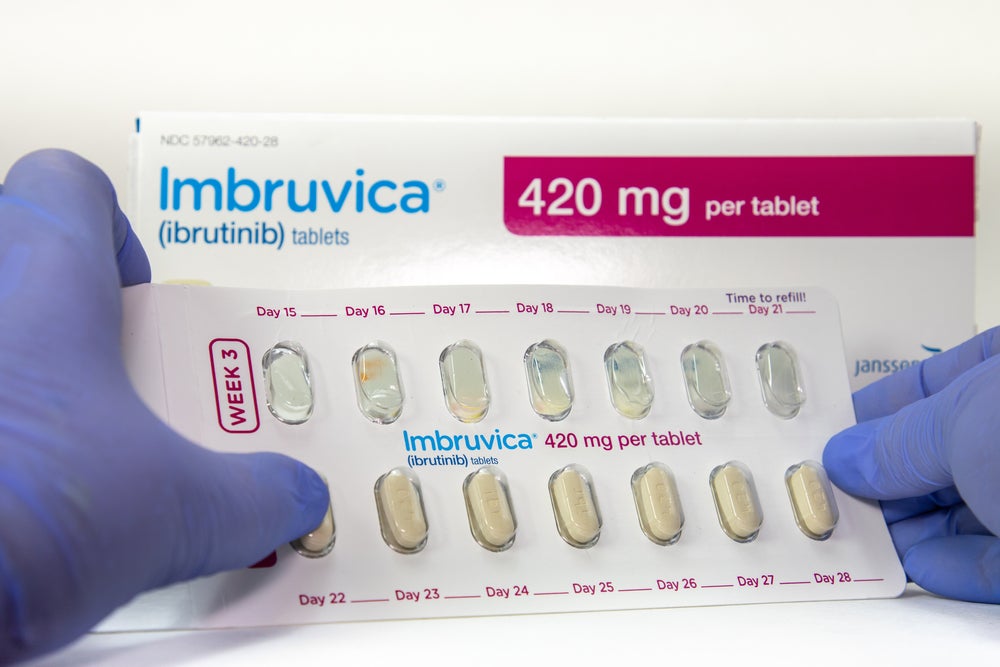 The UK's National Institute for Health and Care Excellence (Nice) has recommended the use of AbbVie and Johnson & Johnson's Imbruvica as part of a combination therapy with venetoclax in previously untreated chronic lymphocytic leukaemia (CLL), based on final draft guidance published on 21 April.
The British institute that oversees a therapy's cost-effectiveness opted for the recommendation based on clinical data from the Phase II CAPTIVATE and the Phase III GLOW studies. There, the data shows that patients on this regimen live longer lives along with having a greater period of time before disease progression, than with other treatments. The combination therapy also caused fewer side effects, with heart problems and hypertension as the most common ones, based on the final draft guidance.
The overall survival (OS) and median progression-free survival (PFS) were not reached after a 38.7-month follow-up or longer from the updated data cut in a CAPTIVATE fixed duration cohort, per the institute's final draft guidance. Additionally, in the GLOW trial, the treatment resulted in a statistically significant improvement of the OS and PFS in patients treated with the combination therapy after a median 46-month follow-up. NICE's committee concluded that the updated data from both trials is both clinically meaningful and consistent for this regimen.
CLL is regarded as the most common type of leukaemia in England where 3,157 patients were diagnosed with the disease in 2017, based on the institute's announcement.
However, this came with the caveat that is no evidence that directly compares this combination with other treatments used by Britain's National Health Service (NHS). This includes monotherapy treatment with AstraZeneca's Calquence and a combination of Imbruvica and Roche's Gazyva (Obinutuzumab). The median PFS and OS were not reached in either trial, meaning that there are uncertainties with the modelled outcomes, based on a March 14 technology appraisal committee presentation.
Also known as ibrutinib, Imbruvica is a Bruton tyrosine kinase (BTK) inhibitor. Other BTK inhibitors include BeiGene's Brukinsa and Calquence. Venetoclax is sold by AbbVie as Venclyxto or Venclexta. Venetoclax is a selective inhibitor of B-cell lymphoma 2. Imbruvica is approved for use in the UK as a monotherapy and in combination with rituximab or Gazyva or venetoclax in untreated adult CLL patients.
While Imbruvica maintained a previously strong position on the market, competition has chipped away at the inhibitor's market share. Brukinsa was approved by the US Food and Drug Administration (FDA) in CLL in January 2023.
According to GlobalData's Pharma Intelligence Centre, a sales consensus forecasts Brukinsa to have global sales of $3.98 billion in 2029, while Calquence is expected to make $5.31 billion in the same year. While Imbruvica sales were $3.78 billion in 2022 for J&J, as per the company's full year results, a GlobalData consensus forecast predicts a fall to $2.7 billion in 2029.
GlobalData is the parent company of Pharmaceutical Technology.