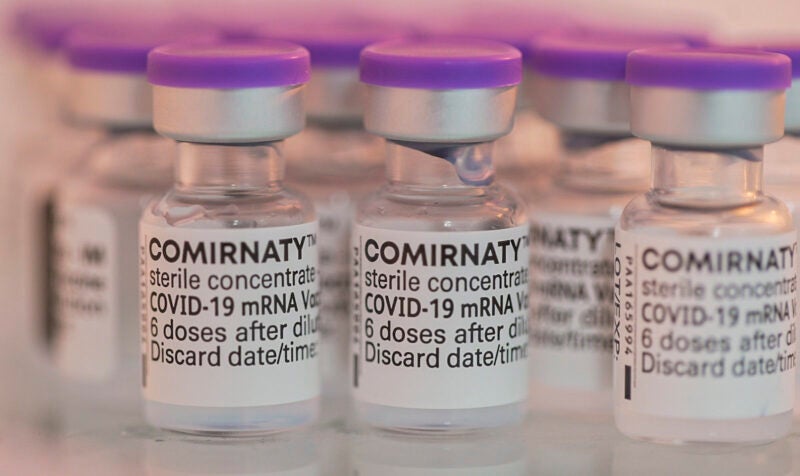 Pfizer has reported a 92% operational growth in revenue to $81.3bn for the full year 2021, compared with $41.7bn for the full year 2020.
On excluding the contributions of Comirnaty and Paxlovid, the revenue for the full year 2021 rose by 6% operationally to $44.4bn.
Comirnaty is a Covid-19 vaccine jointly developed by Pfizer and BioNTech while Paxlovid is Pfizer's oral antiviral treatment.
The company noted that the operational growth for 2021 was mainly driven by worldwide sales of its Covid-19 vaccine, Comirnaty, robust growth of Eliquis globally, oncology biosimilars and Pfizer CentreOne among others.
Furthermore, the growth was partially offset mainly by reduced revenues for Prevnar/Prevenar 13 and Chantix globally, Enbrel outside the US and Sutent in developed markets.
For the full year 2021, the reported diluted earnings per share (EPS) was $3.85 compared with $1.63 for 2020.
The adjusted diluted EPS for 2021 grew by 96% to $4.42 from $2.26 for 2020.
Furthermore, in the fourth quarter (Q4) of 2021, revenues grew to $23.8bn, indicating an operational growth of 106% against $11.6bn in the year-ago quarter.
On excluding Comirnaty and Paxlovid, revenues for the quarter dropped by 2% on an operational basis.
Comirnaty generated $12.5bn in direct sales and alliance revenues while Paxlovid generated $76m in US sales.
The reported diluted EPS in Q4 2021 was $0.59 against $0.15 in Q4 2020.
For Q4 2021, the adjusted diluted EPS was $1.08, indicating a growth of 152% from $0.43 in the prior-year quarter.
Pfizer chairman and CEO Dr Albert Bourla said: "In the early days of the Covid-19 pandemic, we committed to using all of the resources and expertise we had at our disposal to help protect populations globally against this deadly virus, as well as to offer treatments to help avoid the worst outcomes when infections do occur.
"Now, less than two years since we made that commitment, we are proud to say that we have delivered both the first FDA-authorized vaccine against Covid-19 (with our partner, BioNTech) and the first FDA-authorised oral treatment for Covid-19."
The company also provided full-year 2022 guidance for revenues in the range of $98bn to $102bn and the adjusted diluted EPS in the range of $6.35 to $6.55.
In July last year, Pfizer reported a 92% growth in revenue to $19bn in the second quarter (Q2) of 2021, versus $9.86bn in Q2 2020.