Porton Advanced Solutions has raised $80m in a Series B funding round to expand its end-to-end gene and cell therapy (GCT) contract development and manufacturing organisation (CDMO) platforms.
Merchant Health, a healthcare private equity (PE) fund of China Merchants Groups, led the financing round together with its sister fund China Merchants Capital and China Merchants Securities Investments.
Additionally, various venture and private equity firms, including Gortune Investment, SDICTK and Fosun Health Capital, took part in the funding round.
The round also saw participation from current shareholders of the company Porton Pharma Solutions, CS Capital, HM Capital, Ruilian Investment and Momentum Venture.
Porton Advanced plans to utilise the funds to advance its business into various markets by investing in key manufacturing infrastructures as well as in commercial operations across the world.
These expansions could aid the company in becoming a worldwide end-to-end GCT CDMO platform to help bring new therapies to patients.
The company exclusively focuses on GCT CDMO services and created a combined platform offering various services including cell therapy, gene therapy, oncolytic virus, plasmids, nucleic acid therapy and microbial vectors utilised for gene therapy (MVGTs).
By the end of this year or earlier next year, Porton will have a PD, AD and GMP manufacturing facility spread over more than 200,000ft² for GCT. 
Porton Advanced CEO Dr Wang Yangzhou said: "In the coming months, we will continue to improve and optimise our internal quality and programme management systems, enhance our ability to operate in overseas and domestic markets and continue to provide the best possible CDMO services to our customers with our open, innovative and reliable platforms so that best medicine would reach the public sooner."
In April, Porton Advanced signed a long-term strategic collaboration with Guizhou Sinorda Biomedicine for cell and gene therapy research and development (R&D) and platform development.
Cell & Gene Therapy coverage on Pharmaceutical Technology is supported by Cytiva.
Editorial content is independently produced and follows the highest standards of journalistic integrity. Topic sponsors are not involved in the creation of editorial content.
Free Whitepaper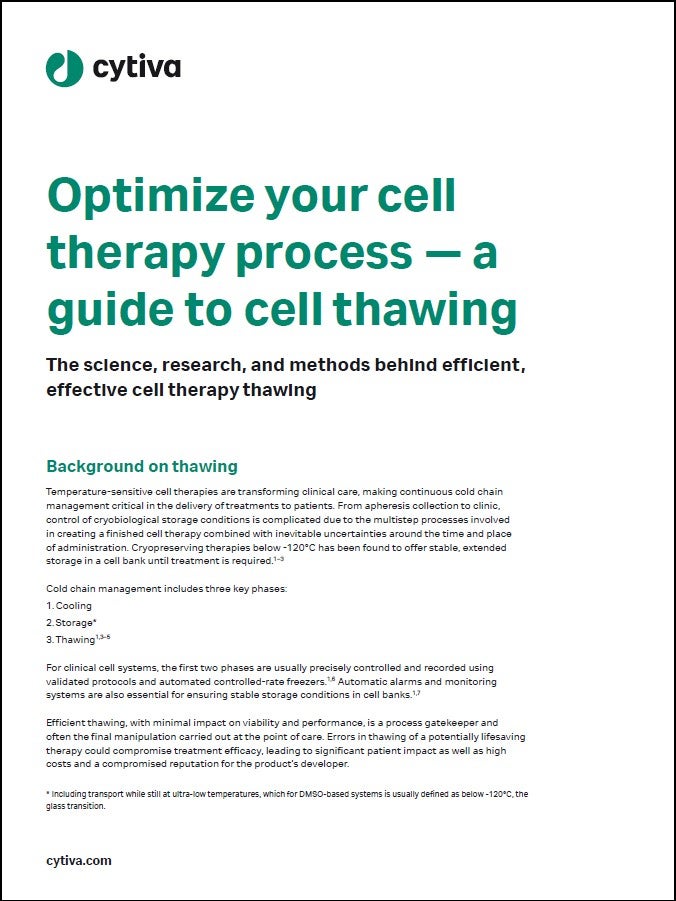 Optimise your cell therapy process: a guide to cell thawing
Typically carried out at the point of care, errors in cell therapy thawing could compromise treatment efficacy, leading to significant patient impact as well as high costs and a compromised reputation for the product's developer. This guide addresses how cell thawing has historically developed into the new techniques used today, along with the physical and biological implications of key metrics and components such as warming rate and ice structure. Also included are reviews of key studies from scientific literature and a consideration of the interactions between cooling and warming rates, as applicable to cell and gene therapies.
by Cytiva Thematic
By clicking the Download Free Whitepaper button, you accept the terms and conditions and acknowledge that your data will be used as described in the Cytiva Thematic privacy policy By downloading this Whitepaper, you acknowledge that we may share your information with our white paper partners/sponsors who may contact you directly with information on their products and services.

Visit our privacy policy for more information about our services, how we may use, process and share your personal data, including information on your rights in respect of your personal data and how you can unsubscribe from future marketing communications. Our services are intended for corporate subscribers and you warrant that the email address submitted is your corporate email address.