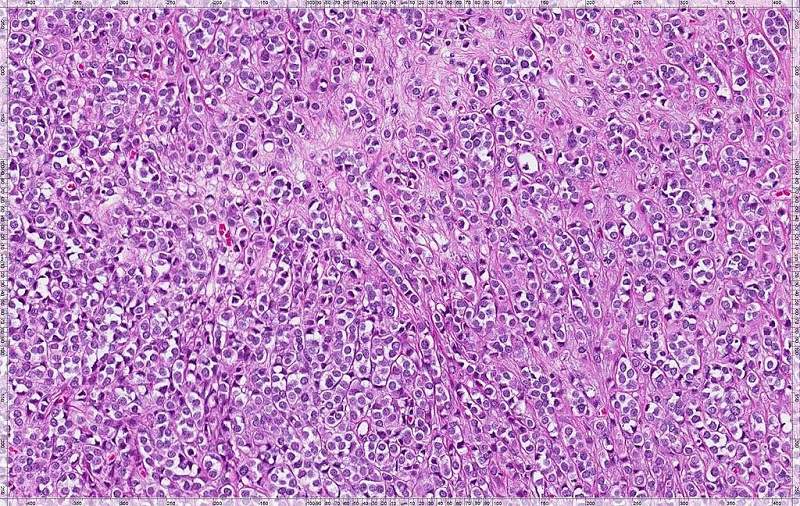 The National Institute for Health and Care Excellence (NICE) has recommended a drug manufactured by Roche for women with metastatic breast cancer that cannot be treated with surgery.
Pertuzumab─manufactured and sold by Roche as Perjeta─has been shown to extend survival by nearly 16 months compared with standard treatment.
When administered in combination with the drugs trastuzumab (Herceptin) and docetaxel, Perjeta has been recommended for the treatment of those with HER2 positive cancers─cancers with high levels of human epidermal growth factor 2, which makes cells divide.
Perjeta was previously only available through the Cancer Drugs Fund, meaning many patients were unable to access it. The approval came following a deal between NHS England and Roche over the cost of the drug, which has already been approved for use in 19 European countries.
Cancer Research UK spokesperson Emlyn Samual said:  "Today's final decision by NICE to recommend pertuzumab for some patients with breast cancer is good news, and provides an important treatment option. We're pleased that NICE and the drug company worked together to make pertuzumab routinely available in the NHS."
Breast Cancer Now chief executive Baroness Delyth Morgan said: "Perjeta is a truly life-changing drug and we are absolutely delighted and relieved that NICE has finally been able to recommend it for routine NHS use in England. While a long time coming, we're thrilled that tough negotiation and flexibility by NHS England and NICE, and the willingness of Roche to put patients first and compromise on price, has again ensured thousands of women can be given more time to live."
Perjeta was also approved by NHS Wales but has not yet been approved in Scotland on the basis of cost-effectiveness.
"While Perjeta will now continue to be the gold standard of care in England, it has never been routinely available in Scotland, Wales or Northern Ireland,"  Morgan told Pharmaceutical Technology.
"This is the most effective breast cancer drug in years and we must urgently see equality in access for NHS patients across the UK. This long-awaited victory in England shows that robust deal-making is possible and can achieve real value for money for the NHS and taxpayer.
"Perjeta has been rejected three times in a row in Scotland, and the Scottish Government, Roche and the Scottish Medicines Consortium must come back together urgently to find a solution for Scottish patients," Morgan added.
Around 53,000 cases of breast cancer are diagnosed every year in the UK. A study by Breast Cancer UK published in January 2018 showed that breast cancer survival rates had increased from 80% to 85% between 2000 and 2014.
The approval follows the changing role of the NHS in the negotiation of drug prices. Previously the decision was made by NICE alone, but NHS England now has more direct involvement with drug recommendations, negotiating directly with drug companies over prices. This has led to the approval of a wider range of breast cancer drugs, with palbociclib (Ibrance) from Pfizer and ribociclib (Kisqali) from Norvatis, recommended for people with hormone receptor (HR) positive breast cancer in November 2017.
World Cancer Day was on 4 February 2018 and aims to save millions of preventable deaths each year by raising awareness and education about cancer, and pressing governments and individuals across the world to take action against the disease.
Breast cancer deaths in the UK have fallen by 10% in the past five years, according to research released by Cancer Research UK to coincide with World Cancer Day.