Samsung Biologics and GreenLight Biosciences have completed the initial commercial-scale engineering run for their messenger ribonucleic acid (mRNA) Covid-19 vaccine under their manufacturing collaboration.
Last year, the companies entered a strategic collaboration.
Subsequently, technology transfer, as well as scale-up from the lab bench to the commercial facility of Samsung, were carried out in seven months.
GreenLight's process from formulation of the drug substance and lipid nanoparticle to bulk drug product can be carried out in this facility.
Furthermore, the mRNA synthesis reaction of GreenLight had a titer of 12g/L at a commercial scale and yielded 650g mRNA.
The RNA platform of Samsung Biologics permitted GreenLight to move from mRNA vaccine conceptualisation to the delivery of released clinical trial material in under two years.
Following the demonstration at Samsung, the clinical trial of GreenLight's Covid-19 booster vaccine is anticipated to commence this year.
This will enable GreenLight to commercially deliver the mRNA vaccine.
Samsung Biologics concluded expanding its mRNA drug substance manufacturing suite at its Songdo headquarters earlier this year, from where the company can now offer clients end-to-end mRNA manufacturing.
An effective scale-up and fit of GreenLight's process to Samsung Biologics' Songdo plant were shown in all comparability data validating with anticipated outcomes.
To execute improvements demonstrated in the first run and to show repeatability at scale, the companies intend to carry out a second engineering run this month.
GreenLight Biosciences CEO Andrey Zarur said: "One of the greatest challenges when producing quality pharmaceuticals is advancing from a small lab to large-scale commercial production.
"We are grateful for the help and support of Samsung in demonstrating that our small mRNA process can scale in a linear fashion to the industrial scale that will be needed to help satisfy the vaccine needs of humanity."
The latest development comes after GreenLight signed a partnership with the US National Institutes of Health (NIH) to develop Covid-19 vaccines against new variants.
Cell & Gene Therapy coverage on Pharmaceutical Technology is supported by Cytiva.
Editorial content is independently produced and follows the highest standards of journalistic integrity. Topic sponsors are not involved in the creation of editorial content.
Free Whitepaper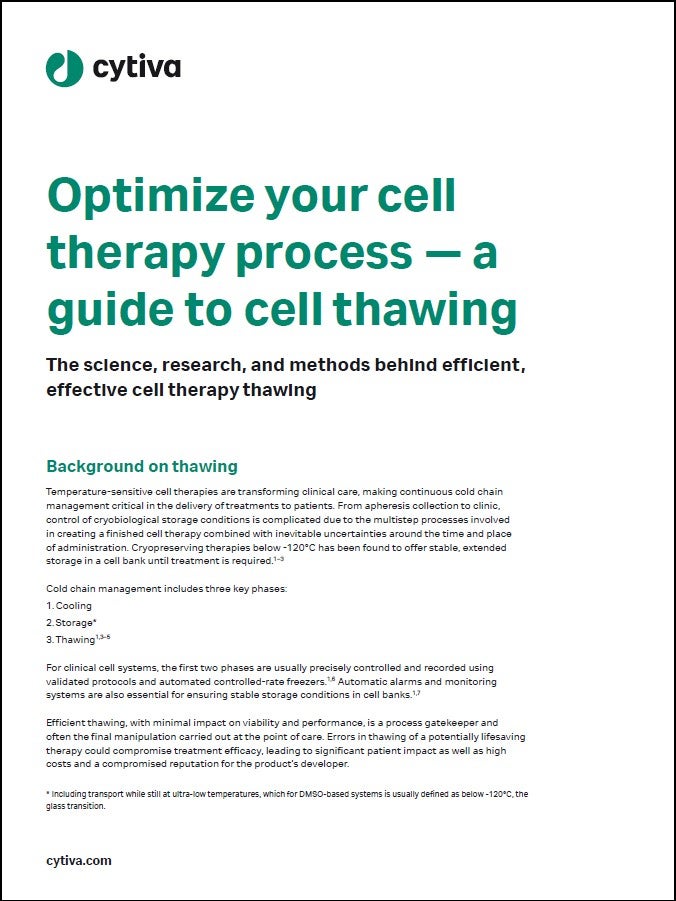 Optimise your cell therapy process: a guide to cell thawing
Typically carried out at the point of care, errors in cell therapy thawing could compromise treatment efficacy, leading to significant patient impact as well as high costs and a compromised reputation for the product's developer. This guide addresses how cell thawing has historically developed into the new techniques used today, along with the physical and biological implications of key metrics and components such as warming rate and ice structure. Also included are reviews of key studies from scientific literature and a consideration of the interactions between cooling and warming rates, as applicable to cell and gene therapies.
by Cytiva Thematic
By clicking the Download Free Whitepaper button, you accept the terms and conditions and acknowledge that your data will be used as described in the Cytiva Thematic privacy policy By downloading this Whitepaper, you acknowledge that we may share your information with our white paper partners/sponsors who may contact you directly with information on their products and services.

Visit our privacy policy for more information about our services, how we may use, process and share your personal data, including information on your rights in respect of your personal data and how you can unsubscribe from future marketing communications. Our services are intended for corporate subscribers and you warrant that the email address submitted is your corporate email address.