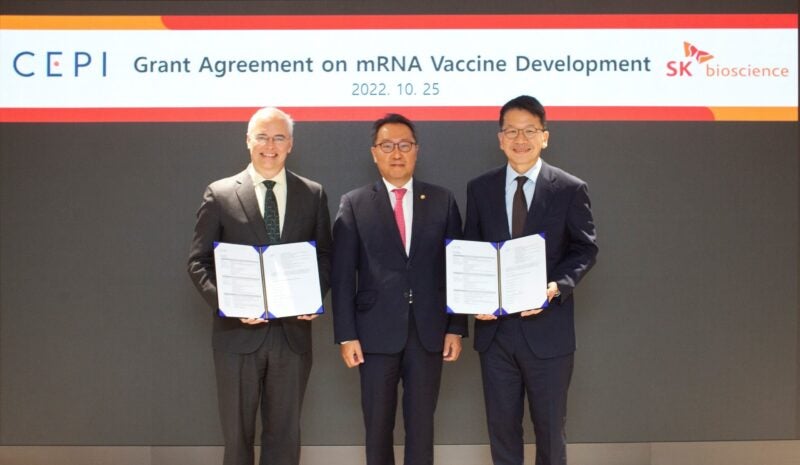 SK bioscience has signed a new collaboration agreement with the Coalition for Epidemic Preparedness Innovations (CEPI) to develop messenger ribonucleic acid (mRNA) vaccines for infectious diseases.
The company has obtained the newest vaccine platform technologies such as bacterial culture, cell culture and genetic recombination.
This partnership will extend the portfolio of SK bioscience including the mRNA platform technology and set up a research and development (R&D) system with international institutions for the prevention of current or unknown viruses in the future.
For developing the mRNA vaccine platform, SK bioscience will utilise the Japanese encephalitis virus (JEV) and Lassa virus.
According to the deal, CEPI will make a payment of up to $140m for R&D expenses to the company.
For backing the Phase I/II clinical trials of two mRNA vaccine platform projects, an initial financing of up to $40m will be offered.
Subject to findings from the trials, additional funds worth $100m will be offered to support late-stage trials/licensure to further establish the mRNA platform and make it ready for deployment during outbreaks.
Additionally, the parties have agreed to extend cooperation to develop various mRNA-platform-based vaccines for infectious diseases in low and middle-income nations.
SK bioscience has also agreed to guarantee equitable access to the project outputs including prioritising supply for low-and middle-income nations, manufacturing vaccine volumes needed to meet public health requirements and reasonable pricing, which are in accordance with the Equitable Access Policy of CEPI.
CEPI CEO Richard Hatchett said: "CEPI's expanded partnership with SK bioscience will help kick start the world's efforts to validate these mRNA platform technologies so that they can be used to create a library of vaccines ready for use against the next Disease X, bringing us another step closer achieving the 100 Days Mission, and preparing the world for the next pandemic."
In August 2020, SK bioscience signed a development and supply agreement for Novavax's Covid-19 vaccine candidate, NVX-CoV2373.
Cell & Gene Therapy coverage on Pharmaceutical Technology is supported by Cytiva.
Editorial content is independently produced and follows the highest standards of journalistic integrity. Topic sponsors are not involved in the creation of editorial content.