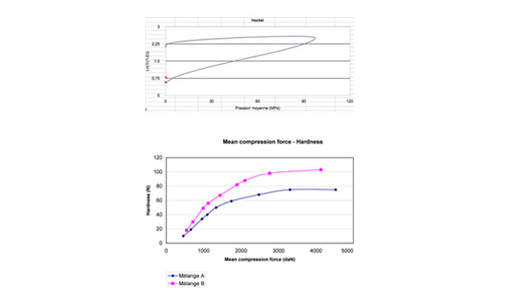 MEDELPHARM provides a range of software solutions for data analysis.
ANALIS Classic
The ANALIS Classic is a user-friendly modular platform that adapts to your tablet press to give you information intuitively.
ANALIS can be fully integrated and take control or communicate with your programmable logic controller (PLC) to facilitate tasks.
ANALIS can also acquire data on your command, and analyse imported data.
The extensive reporting choices make it a complete all-in-one software toolbox applicable to the full range of your studies.
ANALIS lets you use standard reports such as Heckel and force hardness or create your own individual analysis.
ANALIS Advanced module 
The ANALIS Advanced module solution automatises your research and development (R&D) and creates the desired innovative compression cycle.
Only available in conjunction with a STYL'One R&D Press, the ANALIS advance module, can fully automatise your experiments to create batches at different pre-defined values. You simply define your design space and let ANALIS acquire data for you and concentrate on the interpretation.
Other key feature of the advanced module is to allow you to design your compression curve as you wish. If you wish to use a compression profile other than the pre-defined ones, then the Advanced module allows you to design compression experiments as you want them.
ANALIS Multi-layer module
The ANALIS multi-layer and tab-in-tab module extends the possibilities of your STYL'One press.
Only available when used in conjunction with a STYL'One research and development (R&D) press, the ANALIS multi-layer module can help you test and design your multi-layer tablets.
Layers can be filled by hand or by using any of the feed shoes such as gravity or paddle varieties. The smart vacuum system prevents cross-contamination between layers. Up to five-layer tablets can be created, with tamping between each layer to ensure constant fill.
ANALIS GMP Production module
The ANALIS GMP Production module is a good manufacturing practice (GMP) qualifiable module that ensures a full part 11 compliance.
Production quality constraints are necessary for clinical batches but can also slow down R&D by adding unnecessary management complexity to a research process.
ANALIS has been designed around a very open and flexible R&D module, which evolves rapidly as technology changes.
Once the GMP module is installed, all data is gathered and protected in a structured query language (SQL) database.
Some R&D functioning modes are incompatible with GMP production and are disabled when you are running production batches. User management allows you to control production with the necessary rigour while leaving flexibility to the R&D users.
Tablet press instrumentation
All modern tablet presses are instrumented either for compress control or data analysis. MEDELPHARM is able to accompany you in this field providing:
Instrumentation services on your press
Data acquisition and analysis software
Calibration tools and services
In addition, the company's experts can train you and teach you how to interpret those data accurately.
The old single station presses are famous for their rigidity and sturdiness.  They are also accessible and fairly easy to instrument. An advanced package such as ANALIS can give a second life to your press and let you fully exploit the data it can produce.