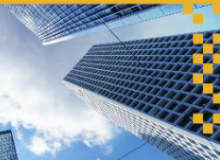 In today's business climate, time-to-market is vital for geting an edge over competition. Companies must be fast, responsive and agile, yet they often depend on legacy infrastructure systems that are overly complex, difficult to modify and extend, slow to implement, and challenging to manage.
Axway Cloud Services address these challenges with cloud-based solutions that are immediately available, ready to run, and integrate smoothly with your on-premise systems.
Subscription-based pricing lowers your upfront investment, while comprehensive managed services allow you to outsource the complexity and headaches of managing hardware, platforms and applications.
This lets you focus on your core strengths, rapidly delivering value to your partners and customers. With Axway Cloud Services you can:
Consolidate gateways, legacy systems, and outdated VAN connections, and integrate with on-premise applications to create a hybrid approach for communicating with your partners, suppliers and customers
Update ageing internal systems with more flexible, scalable and future-facing cloud technology
Extend your existing applications with comprehensive integration functionality
Scale your systems up or down to meet rapidly changing business requirements
Assure security, reliability and performance with a unique combination of private cloud and shared infrastructure