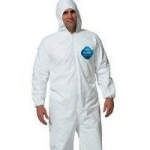 Cleanroom suit, coveralls and frocks are available from Cleanroom Connection in a variety of styles and non-shedding materials.
Depending on what cleanliness level your cleanroom is, you will want to choose the correct cleanroom suit.
Check out our Tyvek coveralls, or choose from our other cleanroom apparel styles.
Our most popular styles of cleanroom suit products are:
Cleanroom coveralls
Cleanroom lab coats
Cleanroom frocks
Cleanroom bunny suit With attached hood and boot covers
Sterile cleanroom suit – coveralls, frocks and lab coats
Disposable, non-shedding cleanroom coveralls are our most popular cleanroom suit due to the fact they cover most areas of your body. When working in a Class 100 ISO5 or cleaner critical environment, cleanroom coveralls are the required apparel choice.
They are available with attached hood and boot covers, or with elastic wrists and ankles.
Cleanroom coveralls with attached hood and boot covers are often referred to as cleanroom bunny suits. Sterile cleanroom apparel is stocked in the coverall style as well.
Disposable cleanroom frocks and lab coats are the apparel style of choice if you are working in a less strict cleanroom. These cleanroom suit styles do not cover your legs, head or shoes, and are appropriate for lab environments or non-critical areas of your cleanroom. A cleanroom frock is a lab coat that is extra-long, usually reaching your knees.
Use the contact details here to contact us for free samples.