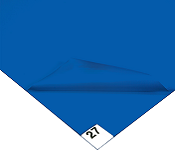 Cleanroom sticky floor mats are impregnated with adhesive, so they have a tack to them.
These sticky mats or tacky mats remove debris and impurities from the bottom of shoes as personnel enter a cleanroom. These devices reduce dirt, dust, lint, and other contaminants from entering stringent controlled environments.
Cleanroom Connection selected the Criti Clean brand as its primary stocked sticky mat. The polyethylene surface is offered in a wide variety of stocked sizes in 30-sheet and 60-sheet pads:
Cleanroom sticky mats in white or blue are stocked in many sizes to fit most entryways with low profile carpet, concrete, tile, and other floor surfaces the adhesive on the back of the mat will stick to. Convenient corner markings indicate how many sheets remain on the pad.
Antimicrobial sticky mat options are available for pharmaceutical, hospitals, and other medical applications where bacteria and other germs are of greater concern. These floor mats have the same construction as general sticky mats, but their cleanroom-safe antimicrobial adhesive kills 99% of fungus, bacteria, and other germs as it removes loose debris from personnel shoes.
Sticky mat trays are necessary only in situations where the entire set of sheets in one sticky mat pad will not be used in one place. The mat trays feature anti-skid material on the bottom to prevent the mat pad from moving as personnel walk across it. The low-profile (1/8in), rigid plastic mats do not interfere with door swings.