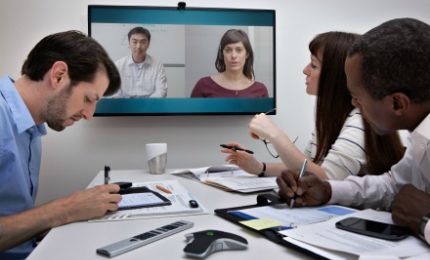 Manufacturing teams use Polycom video, voice and content collaboration solutions to meet face-to-face wherever they are in the world and in whatever environment they choose.
Teams can collaborate from a factory floor, in an R&D lab, on-the-go or in a conference room or immersive theater.
The collaboration culture promotes manufacturing innovation and streamlines design and production processes.Many manufacturing companies have design facilities in multiple locations, including the use of contract research organizations (CROs).
Co-ordinating design and development operations both within the pharmaceutical manufacturer and to these external organizations can be time-consuming.Polycom HD video conferencing solutions help manufacturing companies overcome these challenges.
The solutions enable designers to meet face-to-face and share content in real-time with remote peers, suppliers and customers.
Designers can collaborate with anyone over any distance on design concepts. As a result, they reduce product development time and accelerate time-to-market.Polycom collaboration solutions:
Reduce time-to-market and time-to-manufacture
Generate more ideas by tapping into a larger pool of knowledge resources
Speed decision-making by providing access to the right information and experts
Polycom has announced at InfoComm 2015 three new solutions to its industry-leading RealPresence Platform.Polycom added...