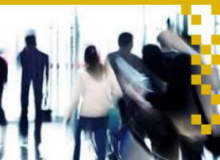 Axway CSOS makes it easy for buyers and suppliers of regulated pharmaceuticals to reduce operational expenses and increase security while ensuring real-time compliance with US Drug Enforcement Administration (DEA) regulations.
Axway CSOS is compliant with CFR21 Part 11 and meets FIPS140 requirements, enabling organizations to replace the DEA's costly paper-based Form 222 with the electronic Form e222.
By providing all of the functionality you need to manage an electronic B2B relationship, including certificate management, trading partner/community management, secure communications, encryption, digital signatures, auditing, alerting, and tracking, CSOS is eliminating billions in costs from the healthcare supply chain and drastically cutting delivery times.
Hassle-free healthcare information systems implementation
Axway CSOS is easy to implement because it leverages pre-configured profiles for existing CSOS customers, including the 'Big Three' pharma distributors, 70% of regional distributors, and many of the top pharmaceutical manufacturers and retailers.
CSOS also provides a provisioning framework for easily adding thousands of pharmacies to your CSOS trading community.
For buyers such as pharmacies, practitioners, reverse logistics providers, internal company plant or DC transfers and distributors, regardless of size, Axway CSOS:
Integrates simply and seamlessly with the procurement system
Presents the e222 for signature on screen in human-readable format
Automatically links EDI data to the e222 form for acknowledged quantity verification
Securely transmits orders with guaranteed delivery and receipt
Fully supports validated digital signatures, document workflow, and archiving
Provides search and tracking of all orders processed, through an easy-to-use web browser interface
Filters data to limit signing users to their own information and tasks
Adjusts both to centralized and distributed signing models