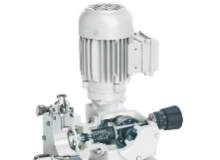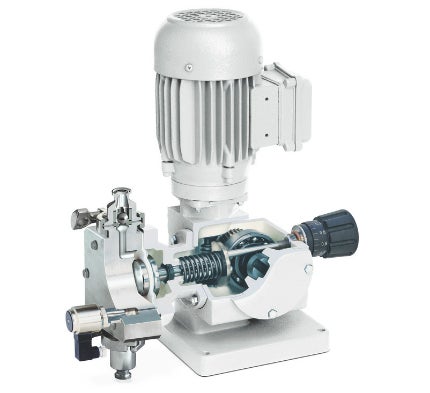 LEWA ecodos sanitary / hygienic is an absolutely safe, economical and multi-option metering pump with mechanically actuated diaphragm. Discharge pressures of up to 20bar and flow rates from 0.4l/h to 1,500l/h per pump head are possible. The surfaces are adapted especially to hygienic production requirements.
Product benefits:
With 13 sizes and liquid ends in 1.4571 (SS316), 1.4435 (SS316L) and PP, as well matching accessories, the ecodos can be perfectly adapted to the actual application
Permanently monitored long-living four-layer sandwich diaphragm, made of pure PTFE
Hermetically tight
High-metering accuracy of +/- 1 %
Dry-run safe
Nearly maintenance-free
Sanitary/hygienic capable design with a very small amount of dead space
Easy-to-clean the surfaces of the entire pump
Wetted parts in accordance with FDA, animal fat free and USP Class VI tested and documented
Complete traceability ensured
Material is certificated according to EN 10204 3.1b
Machine polished (1.4571: RA < 0.8µm) or electro-polished (1.4435: RA < 0.5µm) surfaces
CIP/SIP capable
Connections in line with DIN, Tri Clamp etc
The LEWA ecodos is successfully in use in food, pharma and biotech industry.