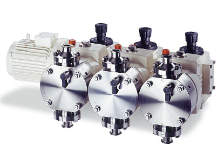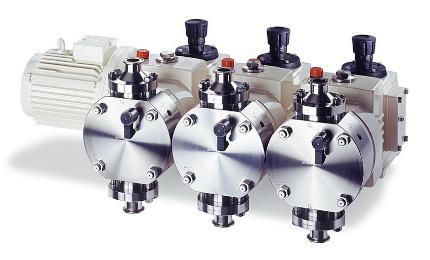 LEWA ecoflow is an innovative, universal diaphragm pump. The technology is the most advanced in the world. The sanitary/hygienic variant offers maximum safety for production and the environment during the production of food or pharmaceuticals. Flexible use is possible at discharge pressures of up to 500bar and a maximum flow rate of 6m³ /h per pump head.
Product benefits:
Hermetically tight
Suitable with almost all fluids, even for hazardous, toxic, abrasive, viscous, polluting and sensitive fluids
Absolutely reliable start-up of the pumps from any operating state, positioning of the diaphragm not necessary
Integrated pressure relief valve
Patented sandwich diaphragm, LEWA DPS Diaphragm Protection System and diaphragm monitoring
Guarantees lowest possible lifetime costs, high energy efficiency, low maintenance costs, and an extremely long service life
Entire pump in sanitary/hygienic capable design with the least amount of dead space
Wetted parts in accordance with FDA, animal fat free and USP Class VI tested and documented
Complete traceability ensured
Material certificated according to EN 10204 3.1b
Machine polished (1.4571: RA < 0.8µm) or electro-polished (1.4435: RA < 0.5µm) surfaces
CIP / SIP capable
You can order explosion protected drives for operation in zones 1 and 2.