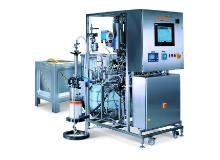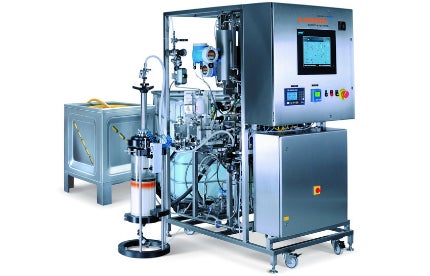 LEWA EcoPrime is a chromatography system with a mechatronic drive unit and hygienic diaphragm metering pumps. The EcoPrime system can be used either as a buffer dilution system or as a standalone chromatography system.
Flow rates from 0.03l/h to 60l/h are possible. It features a wide dynamic range of 1:150 and a low holdup volume. It can be customized to meet all requirements of the actual application. Benefits include:
LEWA's intellidrive technology implemented in the EcoPrime, allows the system to deliver highest accuracy and reproducibility
Achieves a high precision of CV +/- 0.5% and a quick flow stabilization, which allows fast column equilibration
Pump head is completely isolated from the gearbox to ensure against contamination of the system
State-of-art mechatronic drive system
Turndown ratio of 1:150 provides the widest dynamic range of flow rates
Design of the entire system complies with all pharmaceutical requirements
Flow rates with low pulsation provide longer service life for column media
The system, as well as process and automation are developed in-house
Very reliable
Cost-effective
You can order a custom bubble trap or a special static mixer on request.