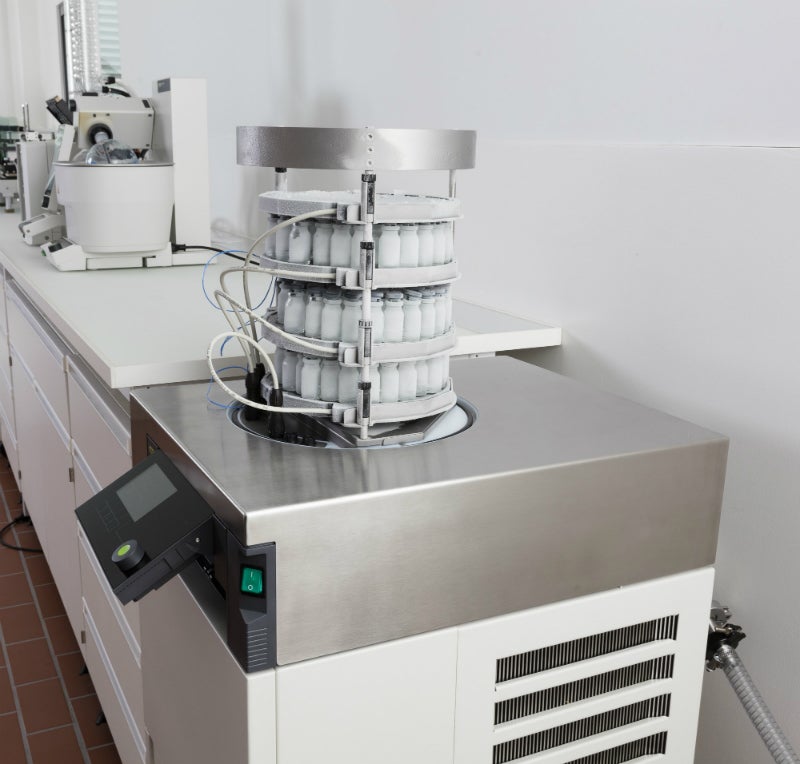 Our top-notch freeze-drying equipment offers a seamless lyophilisation process for research and development of novel therapeutics.
Our product portfolio is ideal for continuous, reproducible lyophilisation of water and organic solvents.
Lyovapor™ L-200
The Lyovapor™ L-200 is a compact, highly automated freeze dryer that allows you to easily program it and control it from anywhere at any time.
Select benefits of Lyovapor™ L-200:
• Sample protective state for precious product samples
• Remote monitoring and push notifications on mobile devices
• Intuitive method set-up and system operation
• A great selection of drying chambers to fit a wider range of applications
• Easy installation on trolley, bench or fume hood
• Easy process optimization thanks to endpoint determinations
• Stable process parameters, such as cooling temperature, a shelf-temperature variation of ±1 °C and vacuum pressure
Lyovapor™ L-300
The Lyovapor™ L-300 is the world's first freeze-dryer to offer continuous sublimation thanks to two alternatively changing and automatically hygienically cleaned condensers. Entire process control is possible via mobile devices.
• Freeze drying of water and organic solvents at -105 °C
• Infinite-Technology™ enables infinite ice capacity due to alternate loading
• Stable pressure maintenance thanks to Smart-Switch
• Stable parameters that guarantee reproducible process
• Superior software for method creation, management, data recording and reporting
• User-friendly control via the touch-screen control panel that can be positioned at front or side of machine
• Fully automated hygienic cleaning of ice condenser for uninterrupted performance and less maintenance
• Low energy consumption due to cost-efficient small ice condenser volumes