BUCHI offers leading solutions in laboratory technology for R&D, quality control and production processes worldwide. Customers from the pharmaceutical, chemical and academic fields equip their laboratories with our high-quality, Swiss-made instruments.
Whether our clients work with preparative chromatography, laboratory, industrial and parallel evaporation, spray drying, freeze-drying, near-infrared spectroscopy (NIR), melting point determination, extraction or Kjeldahl determination, we work to deliver solutions tailored to the customer's needs.
Concentration of substances with Rotavapor®
A concentration step may need to be carried out at several points of the drug discovery workflow. One of the methods for concentration of compounds of interest is rotary evaporation, which is typically used to evaporate organic solvents or improve drug characteristics such as stability.
BUCHI was one of the first companies to commercialise the rotary evaporator and we currently remain one of the leading providers of rotary evaporation solutions worldwide. By offering unmatched time-savings through features such as automatic distillations, foam detection and remote control possibilities, our Rotavapor products are well-suited to a busy pharmaceuticals R&D lab.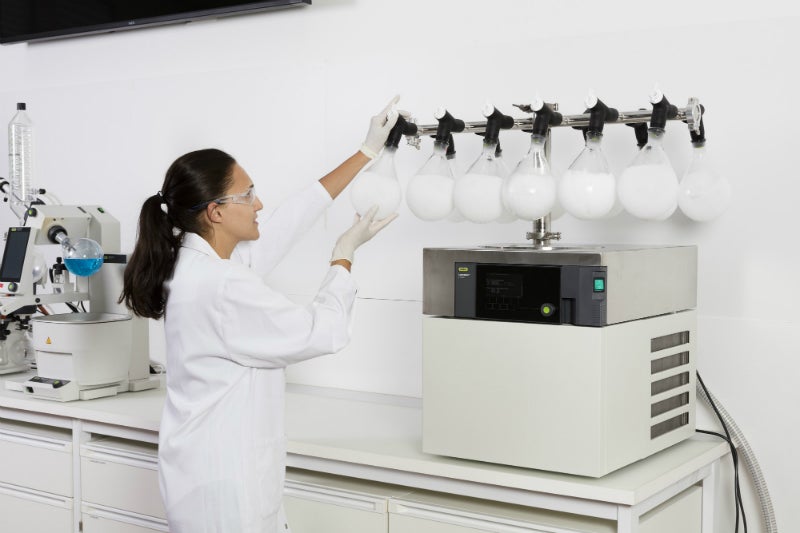 Our freeze-drying solutions offer constant, reproducible lyophilisation of water and organic-based solvents.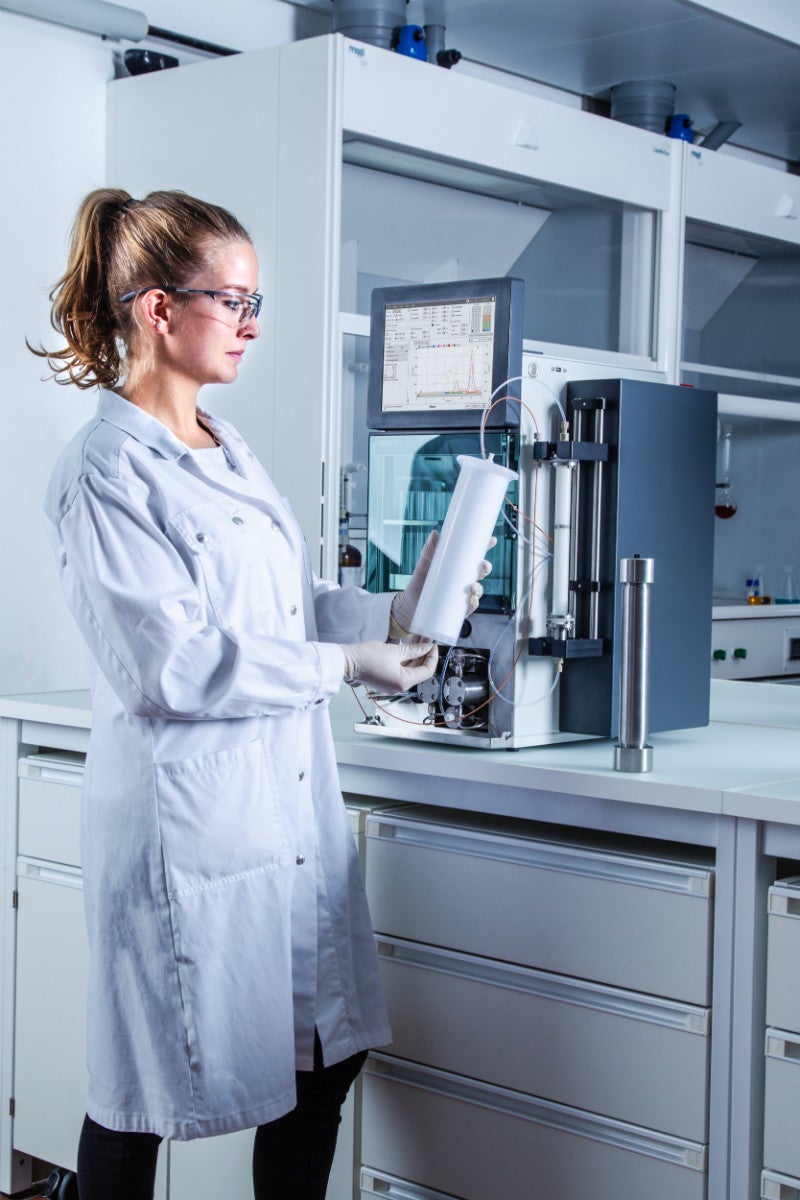 We were one of the initial companies to commercialise the rotary evaporator.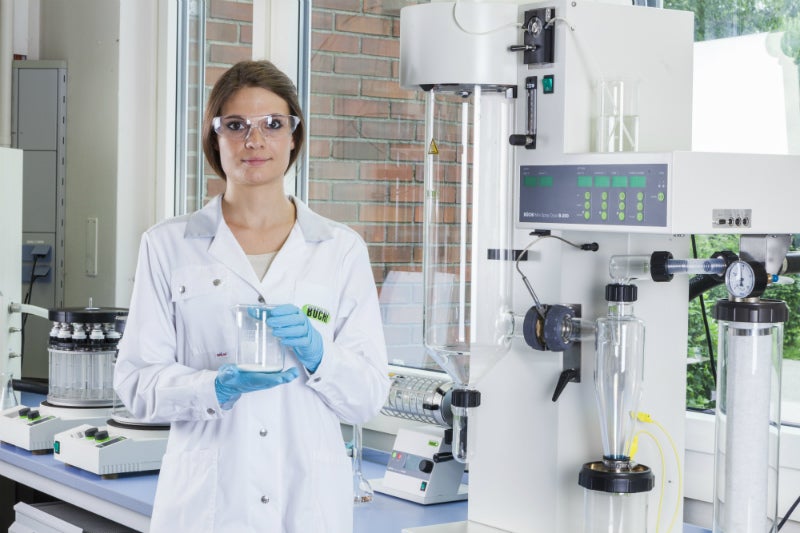 Drying through spray drying or lyophilisation allows a lengthier shelf life, as well as enhanced stability.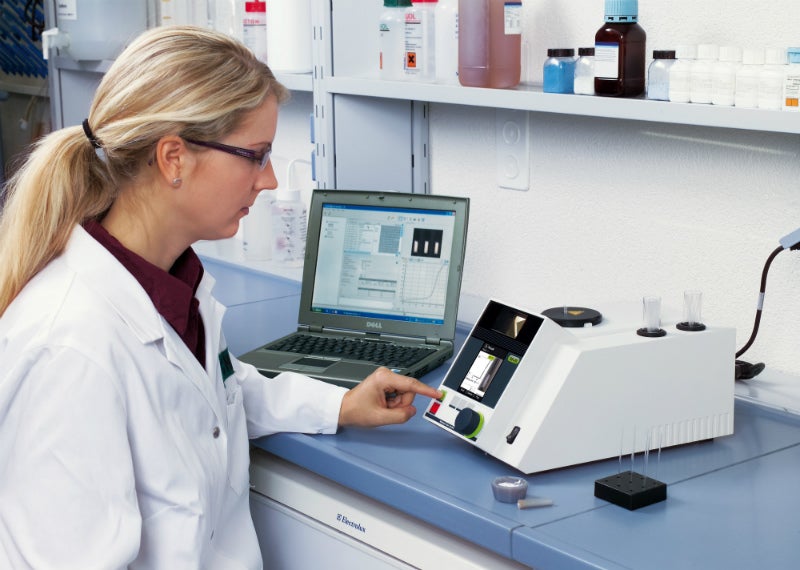 We aim to deliver melting point determination solutions tailored to client-specific requirements.
We offer customised control of the Rotavapor, vacuum pump and chiller, as well as a wide selection of heating baths, vacuum pumps, condensers and glassware to suit applications.
Molecule isolation with flash or preparative chromatography
Some types of chromatography are indispensable on the path to discovering novel therapeutics. Flash and preparative chromatography, however, can be used to isolate molecules before further analysis.
BUCHI's Pure chromatography system offers maximal space-saving through the combination of both flash and preparative chromatography options in a single instrument. The chromatography unit also has an integrated UV and evaporative light scattering (ELS) detection.
We aim to guarantee high sample safety with the help of features such as leak, pressure and solvent level sensors, as well as radio-frequency identification (RFID) technology on cartridges and racks.
Drug formulation supported by trusted drying solutions
The characterisation of novel therapeutics frequently requires a drying step to remove water or organic solvents from products. Drying through spray drying or lyophilisation enables longer shelf life and improved stability, making product processing, transportation, storage and dissolution more efficient.
Our Mini Spray Dryer has been featured in more than 1,000 publications and over 500 patents, offering a fast-drying process with speeds of up to 1L an hour. The unit also provides high yields of up to 70% from even small amounts of less than 5g of a sample.
Our Lyovapor freeze-drying solutions offer continuous, reproducible lyophilisation of water and organic-based solvents.
Final analysis with compliant melting point determination
The melting point is a physical property that can be used to determine the purity of pharmaceutical compounds. We offer established solutions with our melting point equipment, proven through its documentation in many pharmaceutical publications.
The melting point instrument offers highly precise measures of melting points, boiling points and slip-melting points, which can be visualised through a video recording of phase transition. The instrument is fully compliant with Pharmacopoeia.
About BUCHI
With almost 20 subsidiaries and support centres, as well as more than 70 quantified distribution partners worldwide, we aim to provide the best possible service for each customer to accompany our instruments.
The reliability of our products and services are ideal for pharmaceutical applications. Drug discovery and development require safe, efficient and compliant sample processing and analytics. We offer a variety of established solutions for the whole drug production process, creating a seamless workflow with optimal productivity and accuracy.