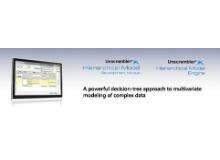 Improve modelling of complex data with the Hierarchical Modeling software.
Our new software uses a powerful decision-tree approach, making the modelling of non-linear data efficient and robust. It allows classification and prediction models to be joined in a multi-level structure.
CAMO has two new tools available:
Hierarchical Model Development Module
This software is a plug-in to the Unscrambler® X software, and is used to develop hierarchical models and can be used for off-line data analysis.
Hierarchical Model Engine
Hierarchical Model Engine is designed for end-users to apply hierarchical models in real-time by integrating them into spectrometers or CAMO's Process Pulse software.