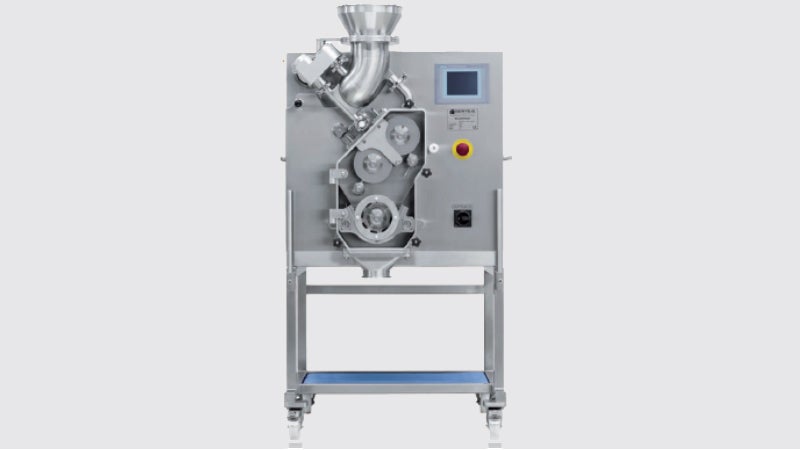 The MINI-Polygran Plus is a development pilot plant for clinical and small-scale production of 10g pertrial, up to 40kg/h. It has a wide range of technological benefits, including a new feeding system, guaranteeing a constant powder feed per batch, and virtually no excess heat with the GERTEIS patented roller design.
Other key technological benefits include:
Highly convenient placement within your facility
Constant product quality and properties
Reduced parts for rapid cleaning procedures
Validated force and gap measurement
Longer dwell times due to the large roll diameter
Easy scale-up to production batches
Ideal for pharmaceutical, food, and chemical laboratories
For development, pilot plant, clinical, and small-scale production
Additional options include:
Advanced OEL design <5µg/m3
Wash-in-place cleaning
Different roller surfaces, optimised for your product
Integrated two-step granulation system
Further reasons to choose Gerteis as your dry granulation expert:
Technical centres for conducting test trials
Application know-how for pharma, food, and fine chemicals
Realising user-specific machine configurations
Close academic cooperation with various universities
Conducting pharmaceutical roller compaction seminars
Excellent worldwide technical and scientific support
Validation documentation and support (CFR 21, part 11)
Alternative configurations / overall design solutions
POLYGRAN applications for the pharmaceutical, food, and chemical industry
Constantly setting industry standards with the latest in dry granulation technology
While not every formulation can be granulated on a conventional roller compactor, the GERTEIS® roller...