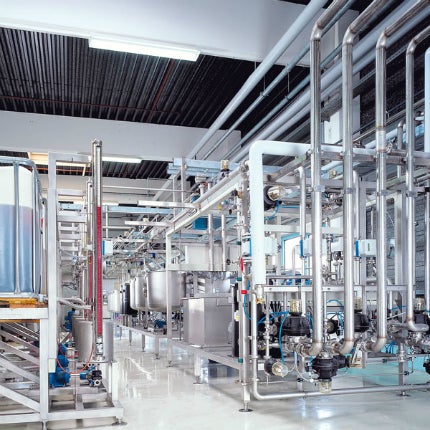 LEWA production units and metering systems ensure the interaction of pump, instrumentation and accessories. We work out the proper process-related flow with our customers.
Applications and specifications, interface logic and ideas of our customers are taken into consideration and are implemented right on target. Discharge pressures of up to 1,200bar (metering systems) or 3,500bar (production units) and flow rates from 10ml/h to 180m /h can be achieved.
We are already at our customer's side during the preliminary project with the expertise and process related know-how which is necessary to reduce process steps, prevent piping problems, save space and equipment and design the process economically. We have gained a strong experience in the mixture of liquids with various viscosities over many years.
Other used components (depending on the actual application):
Diaphragm metering pumps from in-house production, which offer:

Variable adjustments of the stroke length and speed
Easy and precise monitoring possibilities
High metering accuracies

Other used components (depending on the actual application):

Flow meters
Filters
Pressure monitoring units
Pipes
Base frames
Control elements
Containers
Cooling or heating elements
Second level

CIP / SIP capable
Over the last decades, the pharmaceutical industry has invested a tremendous amount of resources and...