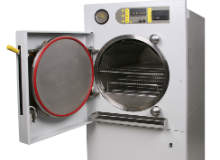 The QCS 100l laboratory autoclave features a 500mm diameter chamber, believed to be largest currently available for this size of machine.
It ensures the autoclave has a smaller overall footprint than most sterilisers of the same capacity, providing laboratories with the opportunity to install the QCS100 where other designs are often too large.
Standard features include the highest pressure vessel safety standards, a single-handed operation for ease of chamber access and one that only releases when temperatures and pressures are at pre-set safe levels.
The autoclave has a tough durable silicone seal that, with its extended life, ensures an air-tight seal every time for steam sterilisation and an advanced microprocessor control system for easy programming using single-touch buttons.
To help prevent cross contamination, the QCS 100 autoclave incorporates epoxy coated panels and frame members treated with an antimicrobial agent that is effective against bacteria and fungi, including MRSA, E coli, listeria, legionella, campylobacter, salmonella and pseudomonas.
QCS 100l laboratory autoclave has a low loading height and wide door swing for easy access to the chamber. Designed and manufactured in Britain by Priorclave, the comprehensive range of options and accessories enables the autoclave build to be tailor to suit specific requirements.
Priorclave QCS 100 laboratory autoclave is an ideal choice for any lab manager or technician looking for a more compact, economically priced 100l capacity autoclave. It is available worldwide through authorised distributors.