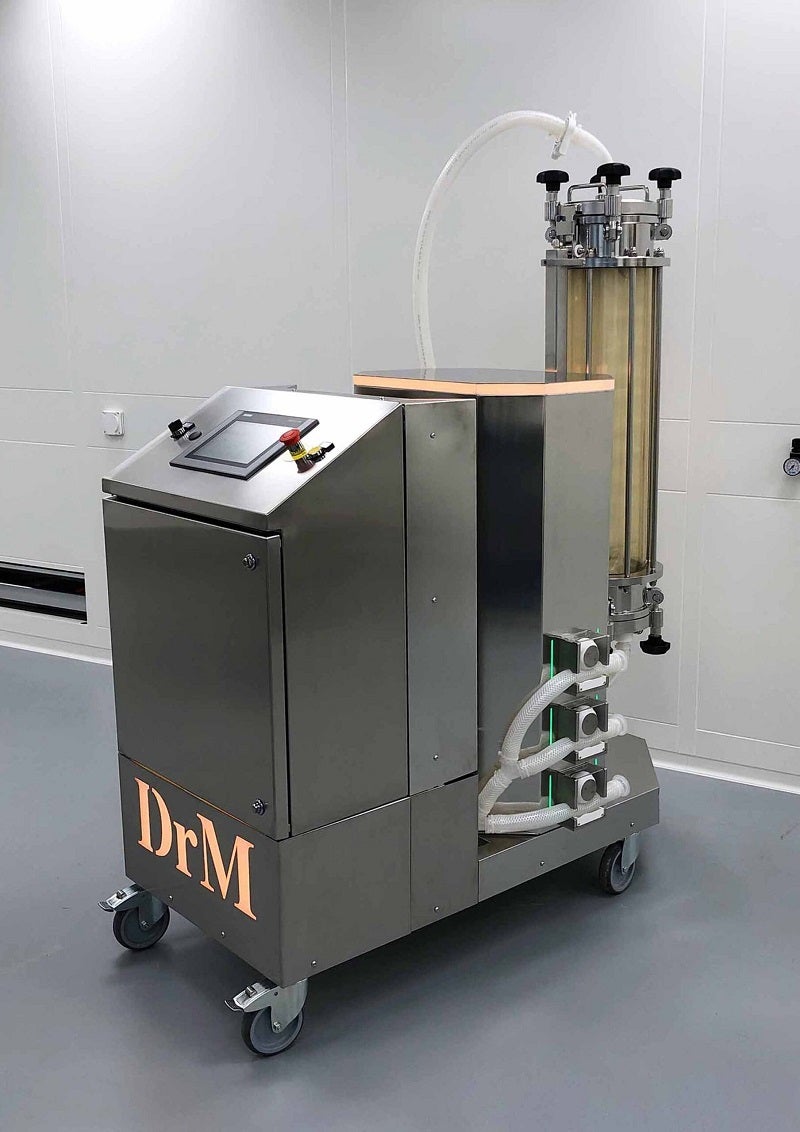 Our innovative single-use filters CONTIBAC® SU and FUNDABAC® SU drastically reduce your operating costs and extend the lifetime of your subsequent DSP equipment. They represent the ideal alternative to disposable filter cartridges for cell harvesting and clarification in biopharmaceutical processes.
DrM's single-use filters consist of multiple vertically aligned filter elements packed into a fully contained plastic enclosure. The plastic enclosure resembles a bag and is placed inside a transparent pressure vessel. The bag is then fed with cell suspension mixed with diatomaceous earth (DE), the latter constituting the filter aid material. The filter elements inside are designed for cake filtration and are covered with a filter membrane. The membrane acts as a support for the porous filter cake which performs the filtration and is formed during operation. The cake consists of cell material and DE.
Once the cake has grown to its maximum size, the bag is squeezed by conducting compressed air into the pressure vessel, thus filtering the heel volume. As a result, the flow rate is considerably enhanced as compared to conventional filter cartridges. More importantly however, the filter membrane is regenerated by back-flushing the cake with either WFI or buffer in the next step.
The CONTIBAC® SU with its bottom port allows for discharging the washed down cake cyclically. This enables the deployment of comparably small filters for large batch or continuous bioreactors, as the cycles are repeated until the batch is finished. The FUNDABAC® SU which does not feature a discharge port can be deployed in cases, where the cell material shall remain contained inside the filter bag.
Key advantages of the single-use filters
High throughput
Increased yield in cell recovery and enzyme recovery operations
Shorter reactor downtime due to reduced cleaning and validation requirements
Pre-sterilised and validated filter enclosure available for pharma/biotech applications
Reduced heel volume and compaction of solid waste thanks to the external pressure
Fully enclosed containment made completely with plastics ensuring safe handling and disposal of hazardous components
Multilayered plastic bag providing superior robustness
Materials of construction
Filter bag: Polyethylene PE
Filter elements: Polyethylene PE
Filter housing: Polysulfone PSU / Stainless steel
Gasket: Silicone
Connector material: PE, PP, PA, PVDF, PSU
Compliance: USP Class VI, FDA 21 CFR 177, ISO/EMA, ASME BPE, animal-free material
Design figures
operating pressure: up to 4 bar (g)
temperature: up to 50 ºC
Sterilisation method: Gamma sterilised or X-ray sterilised
Batch volume: up to 1lt, 5lt, 10lt, 50lt, 100lt, 200lt, 1000lt
Filtration area: Customised, available in various sizes*
Connector type: Hose barb, Tri-clamp, sterile / aseptic connector, luer