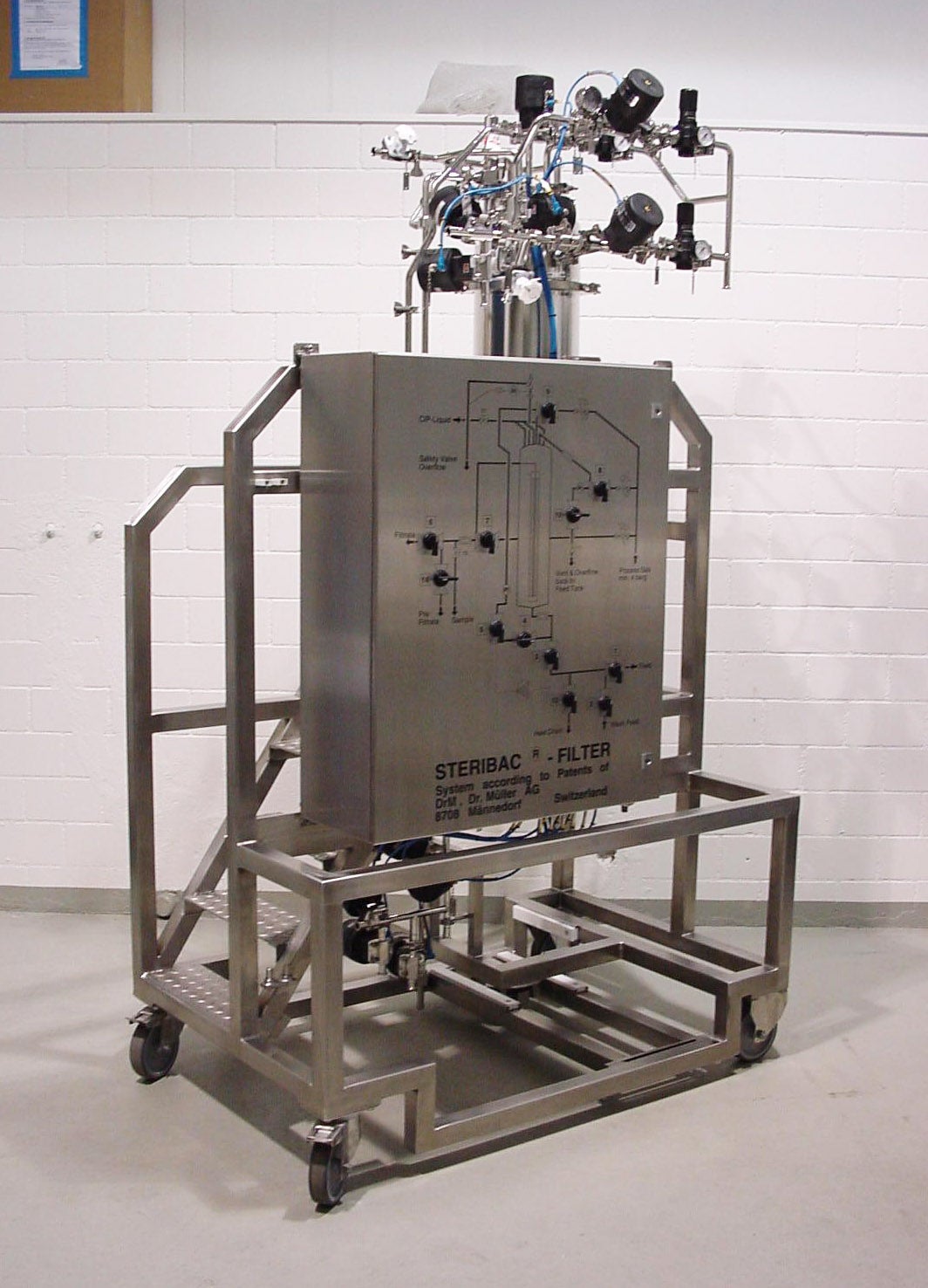 DrM has developed the STERIBAC® candle filter as a special execution of the conventional, well-established FUNDABAC® technology specifically targeted to industries where GMP shall be followed. These industries have to adhere to strict regulatory agency requirements relating to particle shedding and sterility and require reliably clean and sterile solid-liquid separation steps. The task of scale-up of solid-liquid separation process steps in the pharmaceutical and bio-process industries must combine the sophistication for programming that can be validated with the simplicity of design and construction.
No rotating or otherwise moving parts essentially eliminate maintenance and the shedding of particulate matter and allows easy CIP.
Automation of all the filtration steps, from filtration, through washing, down to the enclosed system for the discharge of the dried residue can easily be implemented, even after start-up of the system.
The simple, modular construction of the filtration elements allows variation of size, volume and cake thickness in a fully contained system.
Preassembled filtration modules (in the case of product dedicated internals) for quick product changes.
Mobility and flexibility are major criteria in this type of industry. Production cycles are short and batches change frequently. As a result, the equipment must adapt to the required process. Therefore, the machine must be easily transferred from one place to the other. DrM has extensive experience in manufacturing mobile, compact, fully contained and automated filtration systems, which are equipped with the necessary instrumentation, accommodated to the process requirements.
Low maintenance cost and low operating costs are achieved because of the absence of moving parts.
CIP cleaning becomes an easy task, as neither mechanically moving parts nor agitating devices are present. It has been proven that with our applied CIP technology batch integrity can be maintained.
Dry, slurry or reslurried discharge of solids can be changed from batch to batch.
The patented spray washing system has reduced the required washing liquids and therefore the running costs drastically.
Heel volume treatment (patented) allows an essentially 100% recovery of products, for both solid and liquid heel and assures batch integrity.
Advantages of the STERIBAC candle filter
A totally enclosed system for high-containment tasks devoid of mechanically moving parts
Automation of all filtration steps
Simple, modular construction of the filter elements
Mobile and flexible design for short production cycles and frequent batch changes
Dry, slurry or reslurried discharge of sterile solids into a sterilized container
Washing liquid waste minimization due to the patented spray washing system
Patented heel volume filtration allows for virtually 100% recovery of both solid and liquid heel and assures batch integrity
Cake washing allows for recovery of valuable mother liquor and/or discharge of solids without undesired liquid impurities
Easy SIP, CIP and disassembly of all components for inspection
Easy handling of filter cake for washing, drying and discharge
Filter media that are fully compatible with the product
Used in the production of particulate free injectables
All connections of the sanitary tubing to meet O-ring sealed GMP flange requirements
Selection of process-focussed sterile pump and instruments
Typical applications
Separation of biomass from fermenter slurries
Separation of precipitated solids in downstream processing lines
Activated carbon treatment of liquid product streams
Heterogeneous catalyst separation from hydrogenation reactions
Crystallized product filtration
Capture of cell debris of both mammalian and bacterial cells
Removal of precipitates in enzymes and plasma
Protein fractions
Separation of phases in blood substitutes
Crystal separation of injectable antibiotics