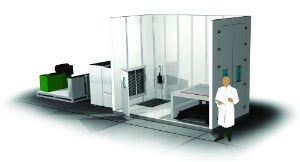 The Advantage Transport Simulation Laboratory™ concurrently studies the impact of temperature, humidity, pressure, shock and vibration.
Modality Solutions has validated this independent, third-party transport simulation laboratory to current good manufacturing practice (cGMP) standards.
The company's Advanced Transport Simulation Laboratory provides data on the impact of five environmental hazards critical to quality attributes of drug formulation, as temperature and humidity is not enough.
Biopharmaceutical, medical device and pharmaceutical companies are taking steps to ensure the safety, efficacy and quality of their products throughout the supply chain. Developers and regulators agree the testing of biologics, tablets, capsules, and medical device combination products before filing is essential.
The company's facility based in Bloomington, Indiana, offers testing that adheres to validation best-practices with ISTA and ASTM standards. These can also be combined with any client-provided testing protocols.
This methodology provides novel data unavailable to early-stage innovators, research-based developers, and formulation scientists.
Execute transport simulation studies for various packaging and presentations
Compare results to expiry date stability studies
Identify and confirm which candidate product formulations can withstand the stress of the global supply chain
Transport simulation laboratory testing can be contracted on hourly or daily rates, on an engagement or assignment basis.