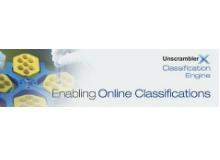 Unscrambler X Classification Engine runs classification models directly from analytical instruments.
The software engine seamlessly integrates into various instruments and process equipment, allowing classification of samples in real-time with models generated off-line in multivariate analysis software, the Unscrambler X.
Instruments can be combined with outstanding analytics, visualisation and diagnostics of multivariate analysis software.
Automate analysis
Apply classification models including SIMCA, LDA, SVM and PCA in real-time to raw data collected from analytical instruments such as spectrometers. This includes automatic preprocessing of new data.
Reduce deployment costs
Classification models developed in a central laboratory or technical group can be seamlessly transferred with no prior knowledge of the Unscrambler X to maximise return on investment (RoI).
Reliable results
Ensure reliable results within pre-defined limits and preview classification results within client software. Results can be saved in tabulated form or as graphs.
Specify the level of result detail
Set the desired level of detail for the results obtained, which range from only class members, to members, distances (scaled / non-scaled), variances, scores and leverages.