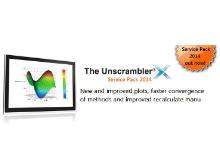 The Unscrambler X has set the standard for multivariate analysis (MVA) and design of experiment software for more than 25 years.
It is the preferred tool for thousands of data analysts, researchers and engineers worldwide who need to analyze large and complex data sets quickly, easily and accurately using multivariate analysis.
The Unscrambler X version 10.3 delivers advanced multivariate data analysis software that is easy to use and offers exceptional data visualisation. It offers better plotting tools, advanced sample selection techniques, a new spectroscopic transformation, an improved design of experiments module and better handling of process data.