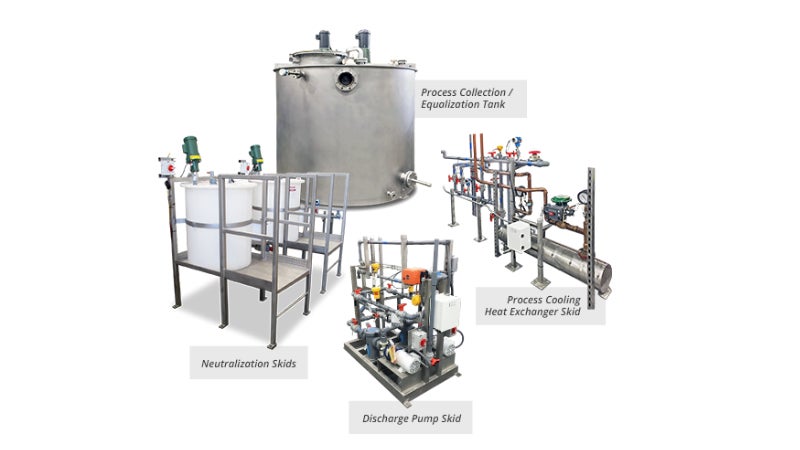 From small, compact solutions (100l to 2000l a day) to production facility solutions (more than 750l per minute), PRI can design a system to meet your specific performance and space requirements that and complies with industry standards.
PRI's Waste Neutralization Systems are fully engineered, fabricated, and tested in its facility. Systems can be integrated directly with your PRI waste treatment system, or integrated into your existing process.
Tanks: heavy duty polyethylene (PE) / polypropylene (PP) / fibre-reinforced plastic (FRP) / stainless alloy
Piping: polyvinyl chloride (PVC) / clear polyvinyl chloride (cPVC) / PE / PP / FRP / stainless alloy
Controls: National Electrical Manufaxcturers Association (NEMA) 4 / 4X with PLC, touchscreen human machine interface (HMI) and emergency stop
Instrumentation: pH, flow, and level with optional temperature
Precision chemical feed pumps for acid / caustic injection
Internal agitation / mixer
Flow diversion valves with recirculation loop as required
Operating vents, centrifugal effluent discharge pumps
Different effluent decontamination systems achieve varying levels of treatment and careful decisions must be made...