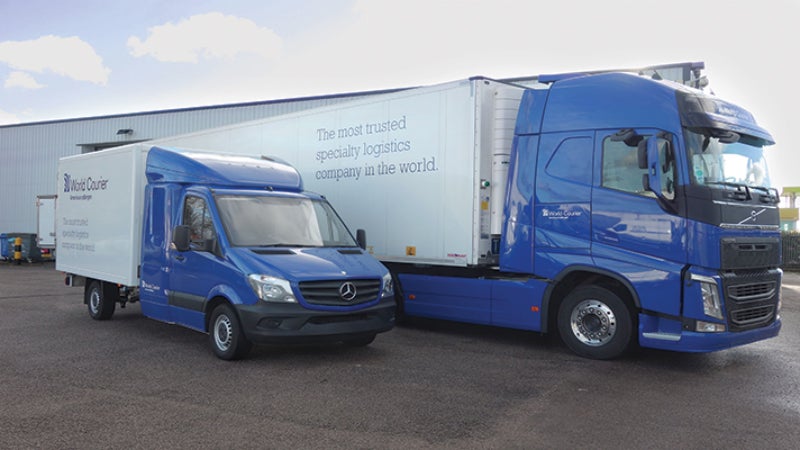 In-transit temperature control for pharmaceutical products faces increasing regulatory scrutiny in addition to the ever-present risk to product integrity.
Customers who require intra-Europe ground shipping turn to World Courier to ensure that their pharmaceutical, biotech, and other crucial shipments arrive on-time and without excursions.
With 55 locations across Europe, in-depth knowledge of clinical trial logistics, and expertise in cold chain management, World Courier helps you move medicine forward.
The company's execution includes:
A prequalified fleet of built-for-purpose vehicles
Independently tested vehicles for extreme external challenges (-25°C to 40°C)
Refrigerated (2°C to 8°C), controlled ambient (15°C to 25°C), and frozen (-15°C to -25°C) compartments
Advanced telematics with computerised, in-cab displays
13.6m specialised, temperature-mapped, and custom built trailers
Sprinter-based fleet of temperature-controlled cubes, with custom-built, high-performance insulation and compressor units
State-of-the-art refrigerated vehicles complying with current environmental standards
Enhanced security features, from cameras to customised driver sleeping compartments
Expertise, processes, and technologies to deliver with precision
Highly trained, World Courier-employed drivers and staff
GxP compliance, including EU good distribution practice (GDP) guidelines (2013/C 343/01)
Continent-wide standards of practice (SOP)
Real-time satellite tracking and temperature display
Assistance with border and customs issues
In-market knowledge and business conducted in local language
When it's on-the-ground logistics you need, rely on World Courier for on-time, on-temperature delivery across Europe.