The Amway facility in Ada, Michigan, produces Nutrilite® vitamins and dietary supplements. Credit: Amway.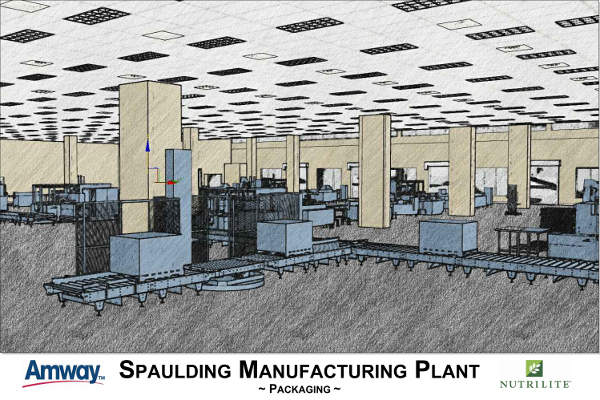 The manufacturing plant features an integrated packaging facility. Credit: Amway.
US-based direct-selling company Amway started building a Nutrilite® production facility near Ada, Michigan, in May 2013.
The facility is engaged in the production of Nutrilite vitamins and dietary supplements. Its first phase was opened in June 2015.
The plant will create around 200 jobs by 2016. It is designed to produce more than three billion tablets and 1.3 billion softgel capsules a year.
Details of the Amway manufacturing facility in Michigan
"The facility is designed to produce more than three billion tablets and 1.3 billion softgel capsules a year."
The facility is built on Spaulding Avenue next to Amway's headquarters in Ada. It has a 317,000ft² total floor space and includes a production facility and warehouse facility.
It also features a 22,000ft² quality assurance laboratory to allow products to be tested onsite.
The plant includes three lines each for the production of gel capsules and tablets. The gel and tablet production lines have enough space provision for future expansion.
Products produced at the Amway facility in Michigan
Amway produces Nutrilite Vitamin C Plus Extended Release and Nutrilite Cal Mag D tablets at the facility, as well as Nutrilite Natural Carotene, Nutrilite Natural B Complex and Nutrilite Salmon Omega-3 at the facility.
Nutrilite is one of the best-selling brands of vitamins and dietary supplements worldwide, offering a full range of supplements for a variety of health needs and general nutrition.
Technology at the vitamin manufacturing facility
The manufacturing facility features state-of-the-art equipment to produce high-quality Nutrilite® products. It uses organic plant concentrates harvested at Amway's farms.
"Nutrilite is one of the best-selling brands of vitamins and dietary supplements worldwide."
The plant is equipped with technology to dehydrate, mill and extract the nutrients. It also has equipment for testing and measurement of concentrate powder.
It features more than 100 major pieces of equipment, including bending, coating, compression, inspection and sealing machines.
The facility is equipped with a fully integrated packaging line.
Construction of Amway's nutritional supplements plant
Pre-construction works began at the site in December 2012. Construction was started in May 2013.
The latest design technologies, such as building information modelling (BIM) and 3D modelling, are used for the facility's construction. The plant is being built in accordance with good manufacturing practices (GMP).
Contractors and financing for Amway's facility in Michigan
The design for the manufacturing facility was provided by FTC&H. The general construction contract for the construction was awarded to Erhardt Construction.
The production facility was built as part of a $332m manufacturing expansion by Amway worldwide. The total investment in the facility's construction was $81m.
The n plant was funded with $1.6m in financing by the Michigan Economic Development Corporation through its Michigan Strategic Fund. It was also offered tax abatement for 12 years by the Ada Township.
Marketing commentary for Amway
Amway is based in Ada, Michigan, and has more than three million distributors spread across 100 countries.
The company offers consumer products supported by the global agribusiness, manufacturing and logistics supply chains. It employs more than 900 scientists, technical professionals and engineers in 75 research and development (R&D) laboratory locations worldwide.
Amway's best-selling brands include Nutrilite, Artistry and eSpring. The company's sale of nutritional products alone accounted for 43% of its total sales in 2014.
---
Related content
---
The medical research complex at the University of Washington (UW) School of Medicine in South Lake, Seattle, was completed in March 2013.
The Cancer and Cardiovascular Research Building is being built at 23rd Avenue, south-east of Minneapolis city in Minnesota.
---