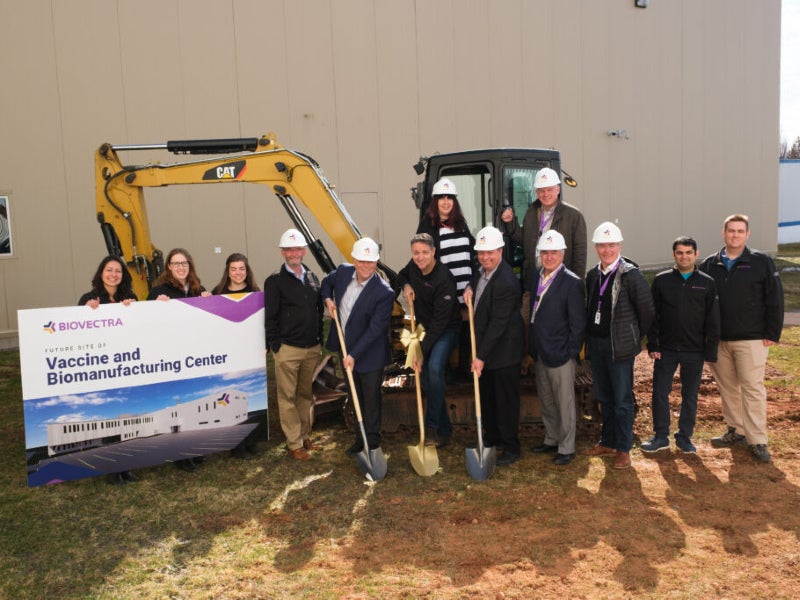 Biovectra broke ground on the new facility at its Charlottetown campus in April 2022. Credit: BIOVECTRA Inc.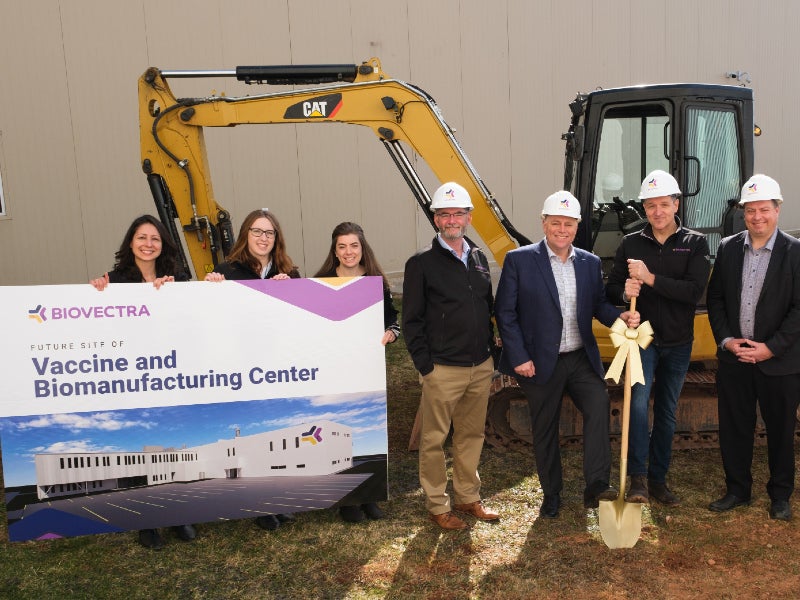 Due for completion in 2023, the new facility will also be able to develop nucleic acids and plasmid DNA (pDNA). Photo: Business Wire.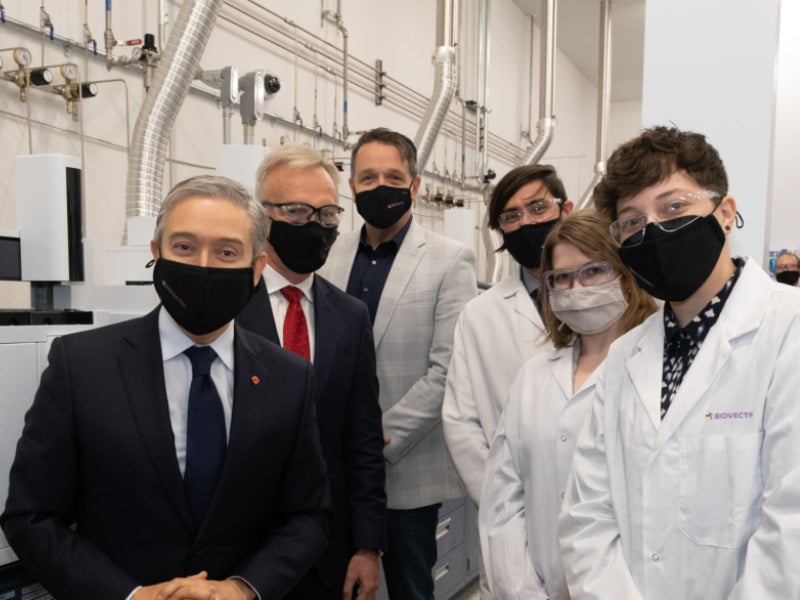 Biovectra received support from the Canadian and provincial governments for the new facility. Credit: BIOVECTRA Inc.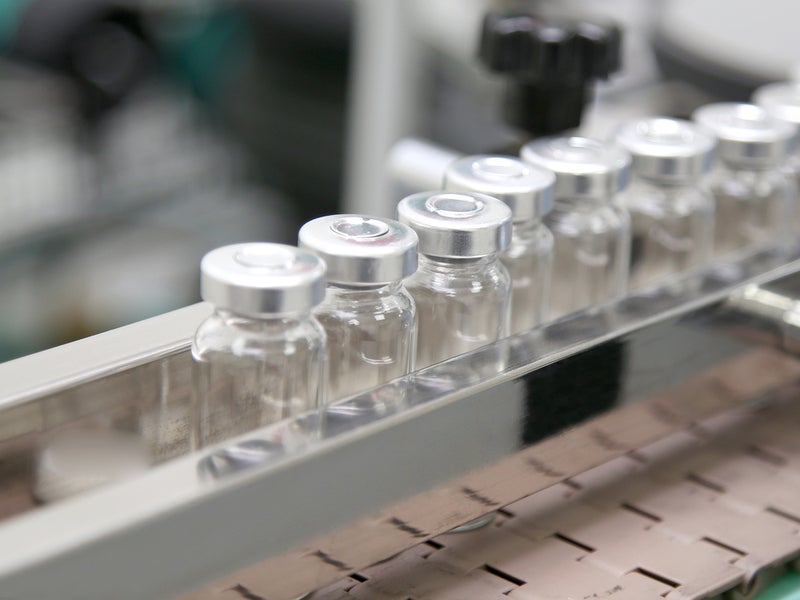 The facility will have the capacity to produce 160 million vaccine doses and 70 million fill/finish of final vaccine doses a year. Credit: Dmitriy Kuzmichev/Shutterstock.com.
Biovectra, a biotech and pharmaceutical company, is building a new facility to produce and manufacture messenger ribonucleic acid (mRNA) vaccines and therapeutics at its Charlottetown campus in Canada.
Construction of the new current good manufacturing practice (cGMP)-compliant facility took place in April 2022 and is expected to be completed in 2023.
The facility is pivotal to the company's expansion plans to create an end-to-end solution for producing vaccines and therapies.
It is also expected to support the Government of Canada's strategy to strengthen the domestic life sciences sector with advanced biomanufacturing capabilities. The move will increase the country's preparedness for future pandemics and other health emergencies.
The company expects to generate 125 new full-time jobs and up to 225 co-operative placements across Prince Edward Island and Nova Scotia through its expansion programme.
Biovectra's new mRNA facility location and details
Biovectra's new facility will be located at 11 Aviation Avenue, Charlottetown, in Prince Edward Island, Canada.
It will occupy 36,000ft² (3,344.5m²) within the Charlottetown campus. It will have a production capacity of up to 160 million doses of mRNA vaccine a year, along with a fill/finish capacity of 70 million final vaccine doses a year.
The facility will be used to develop and manufacture nucleic acids, recombinant proteins, and other biotherapeutics expressed via microbial fermentation.
The existing microbial fermentation and purification space will be reconfigured to produce plasmid DNA (pDNA) from microbial sources.
A good manufacturing practice (GMP) formulation and fill/finish space will be created to support mRNA and pDNA expansions at the site.
Furthermore, the project will establish new process development laboratories and scale-up areas within the new facility.
Funding
Biovectra will invest C$79.6m ($63.27m) to expand its capacity to produce mRNA vaccines and therapeutics.
The investment will be used to build the new Charlottetown facility and undertake modifications in its facilities in Nova Scotia.
A portion of the investment will be used to complete the installation of a single-use clinical scale microbial suite at its Windsor facility by Summer 2022, and open a new research and development facility in Halifax.
The federal and provincial governments are providing C$39.8m ($31.63m) and C$10m ($7.9m), respectively, in support of Biovectra's expansion plans. The federal government allocated funds for the project through its Strategic Innovation Fund (SIF), a programme aimed at providing funds for large-scale projects.
Services offered by Biovectra
Biovectra provides services such as process development, analytical development, clinical development, scale up, and commercial-scale manufacturing.
The company has expertise in developing and supplying small molecules for various project stages ranging from investigational new drug applications, to clinical trials and commercial supply.
It can develop and manufacture active pharmaceutical ingredients (APIs) using both synthetic routes and fermentation.
Biovectra provides microbial fermentation and chemical synthesis capabilities from the pilot phase to a commercial manufacturing scale. Microbial fermentation is used to complete designated transformation steps before the product undergoes further processing by the synthetic small molecule team.
The company leverages sterile API production technologies to mitigate contamination risks associated with longer fermentation processes.
Furthermore, the company offers highly potent API (HPAPI) process development and manufacturing services for both small and large molecule APIs. It can produce complex products that require specific handling, conjugation, or other specialised processing.
The company also offers bioprocessing reagents in different sizes ranging from grams for research and testing, to kilograms for manufacturing operations.
Marketing commentary
Headquartered in Charlottetown, Canada, Biovectra is a contract development and manufacturing organisation (CDMO) engaged in the clinical-to-commercial scale production of pharmaceutical ingredients.
With a workforce of more than 550, it has operations in Prince Edward Island, and Nova Scotia, Canada.