Boehringer Ingelheim China Biopharmaceuticals Project, Shanghai
Boehringer Ingelheim is developing a biologics manufacturing facility in Zhang Jiang Hi-tech Park, Shanghai.
Project Type
Biopharmaceuticals facility
Construction Started
June 2013
Estimated Investment
€70m ($76m approximately)
Expand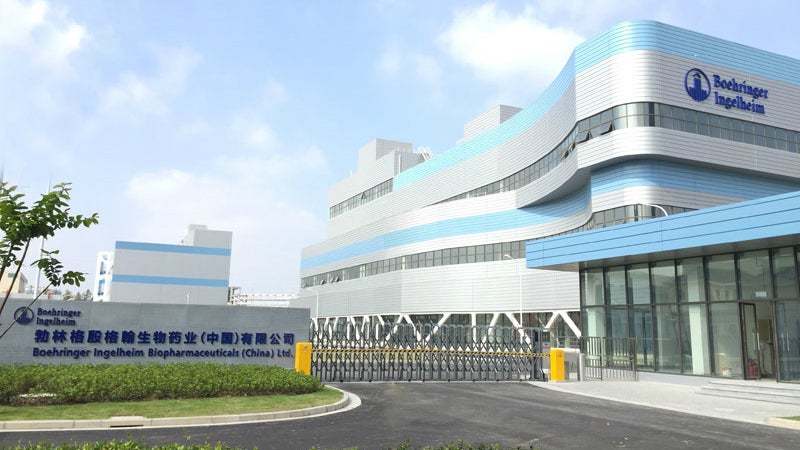 Boehringer Ingelheim is developing a biologics manufacturing facility in Zhang Jiang Hi-tech Park, Shanghai.
The greenfield facility will represent the company's first venture into Asia and be one of the first biologics facilities to be established in China by a multi-national company.
Groundbreaking took place in June 2013, while the first phase of construction was inaugurated in May 2017 and completed with an investment of €70m ($76m).
Compliant with current good manufacture practices (cGMP), the facility will enable Boehringer to become one of the leading contract manufacturing companies in China, focusing on the production of antibodies and recombinant proteins using mammalian cell culture technology. The facility will also provide development and clinical services.
Details of Boehringer Ingelheim's biopharmaceuticals project
Boehringer Ingelheim entered the Chinese market to offer customised contract manufacturing capabilities to China. The project is supported by the Shanghai Municipal Government and the country's 12th Five-Year-Plan (FYP), which designated CNY12bn ($1.76bn) for the country's biopharmaceutical industry.
Boehringer Ingelheim plans to invest more than €100m ($112m) between 2015 and 2020 towards the development of the site. It has been operating at 100l and 500l capacity since 2014. Operated under the name BioLab, activities included a workshop that enabled pilot tests for the creation of study samples and early clinical supplies.
The new facility will enable Boehringer Ingelheim to operate at 2,000l capacity, with easy transfer of disposable models between various sites of the company. It will also provide both upstream and downstream process development, as well as clinical and commercial-scale manufacturing capabilities.
New biotech facility design and capacities
The Shanghai facility's design is based on NNE's Bio on demandTM concept. It is highly flexible and is based on single-use disposable technology. The facility will enable Boehringer Ingelheim to provide the full cycle of services from DNA to finished product.
The facility features open process architecture and will enable production of clinical material for pre-clinical, clinical, and commercial phases. It is equipped with 2,000l single-use bioreactors, with fermentation and purification lines and automated fill / finish capabilities.
The components of the plant include wash and sterilisation facilities, an IPC lab, a seed lab, a cell culture unit, media and buffer preparation units, and purification units. It also features waste control, dispense, and storage units.
The facility is designed to enable future changes to be made based on the product mix and also enable expansion in the future to meet demand. It is also equipped with stainless steel manufacturing lines, which are expandable up to 5,000l.
Contracted involved
NNE carried out feasibility studies and developed the conceptual design. Archetype Group served as the project management assistant, while the Global Shanghai Office was involved in the negotiation and documentation process.
US-based contract pharmaceutical manufacturer Jubilant HollisterStier is expanding the sterile injectable production capacity at its facility in Spokane, Washington. The…