Building Cure, Seattle Children's Research Institute, Seattle
Seattle Children's Research Institute (SCRI) is constructing a new paediatric research building named Building Cure at Stewart Street, Seattle, US.
Project Type
Paediatric research building
Location
Stewart Street, Terry Avenue, Seattle, US
Construction Started
February 2017
Estimated Investment
$300m
Expand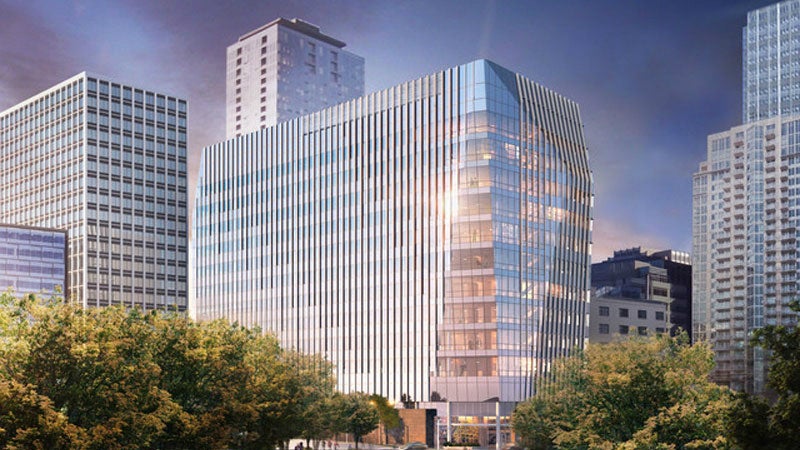 Seattle Children's Research Institute (SCRI) is constructing a new paediatric research building named Building Cure at Stewart Street, Seattle, US. The institute will use the facility to develop therapies for children with diseases such as cancer, type 1 diabetes, and sickle cell anaemia.
The $300m project broke ground in February 2017 and was marked as a Guinness world record attempt for most people conducting a DNA isolation experiment simultaneously. Construction of the facility is scheduled for completion in 2019.
The new facility will increase the total area of SCRI's research facilities to more than one million square feet, helping achieve life-changing research to transform the lives of children.
Design details of Building Cure
Building Cure will be 13-storeys high with a total floor space of 540,000ft² including 380,000ft² above-grade and 160,000ft² below-grade. The geometrically dynamic tower will feature publicly accessible interior and exterior spaces.
The building's entry is located towards the open end of Stewart Street and Terry Avenue in a transparent atrium. Its facades are composed of three basic modules – A, B and C, and combinations of shading depth to maximise the occupant comfort and environmental response.
Module A, with vision glass aperture, controls the heat gain and glare for the labs, and the harsh western exposure. Module B covers most of the remaining surface in the north, east, and south exposures, while module C is placed on the north facade to take advantage of views and mild exposure.
The building features an open research lab design consisting of lab modules with 22ftx32.6ft open benches. Each bench includes two 4ft tech stations, two 6ft lab benches, 3ft 6in end cap for shared equipment, and a 2ft 6in wet wall and 6ft corridor.
In addition, the building will feature green landscapes with special pavements, planters, trellises and living plant material.
Facilities at Building Cure
The research facility will comprise research labs, a Science Discovery Lab, and a Cure Factory.
The research labs will be used by SCRI's scientists to develop treatments for childhood cancer. It will also advance the institute's immunotherapy technique that reprogrammes a child's own immune system to combat cancer.
The Science Discovery Lab will be a teaching lab for children, and include classrooms for students to pursue science, technology, engineering and math (STEM) education programme.
The Cure Factory will be home to a new therapeutic cell processing core that will be used for converting lab discoveries into treatments. It will carry out cancer immunotherapy trials, and will also produce approximately 1,000 cancer immunotherapy products a year for children using research protocols.
It will also focus on the development of cell therapies for immune conditions including type 1 diabetes and sickle cell disease.
The Ben Towne centre for childhood cancer research will be relocated to the new research building. It is an FDA-approved good manufacturing practice (GMP) therapeutic cell production core facility currently located at SCRI's Olive Way campus.
The research facility will also include a museum, a café, parking space for 300 vehicles, and a 225-seat auditorium.
US-based pharmaceutical company Athenex, in partnership with the State University of New York Polytechnic Institute (SUNY Polytechnic Institute), is building…