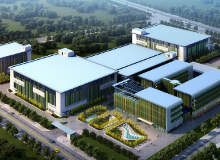 In October 2015, Tianjin CanSino Biotechnology (CanSino) began building its first fully integrated Ebola vaccine manufacturing facility in the Tianjin Economic-Technological Development Area (TEDA) west zone in China.
The facility will be used for the development of innovative vaccine products for treating the Ebola virus disease. CanSino sought financing for the project from Qiming Venture Partners and Lilly Asia Ventures among other investors.
The total investment for the facility's construction is estimated to be ¥2bn ($315m), of which Lilly Asia Ventures has contributed $15m.
Details of the CanSino Ebola vaccine manufacturing facility
The manufacturing facility will be spread over a 65,000m² area. It will be built in compliance with China and the World Health Organisation's (WHO) good manufacturing practice (GMP) standards and produce an annual industrial output worth up to $600m.
Product portfolio of the CanSino facility in Tianjin
The facility will produce ten quality human vaccine products, including the Ebola vaccine, multivalent meningococcal and pneumococcal conjugate vaccines, as well as the diphtheria, tetanus, whooping cough and polio (DTCP) vaccine.
Its total production capacity is expected to be more than 200 million doses a year.
Construction of the facility
CanSino broke ground for the vaccine manufacturing facility's construction in October 2015. The first phase of construction is expected to be completed by September 2018.
Ebola vaccine development
The Academy of Military Medical Sciences of China discovered an Ebola vaccine, which was approved for clinical trials in December 2014. The vaccine is being developed by CanSino in partnership with the Beijing Institute of Biotechnology.
The vaccine's clinical development is based on the Ebola virus strain that caused the 2014 epidemic. The Phase I double-blind, placebo-controlled study was conducted on recombinant adenovirus type-5 vaccine in Jiangsu province, China. A total of 120 healthy adults were enrolled for the trial.
"The vaccine's clinical development is based on the Ebola virus strain that caused the 2014 epidemic."
Study results announced in March 2015 showed that subjects who were given the vaccine reported 95% effectiveness in a low dose and 100% in a higher dose. Subjects are called to undergo further clinical trials in Africa to determine whether the vaccine's immune response is strong enough to fight off an actual Ebola infection.
The vaccine is currently undergoing Phase II clinical trials in Africa. CanSino submitted four clinical trial applications (CTAs) for the vaccine to the China Food and Drug Administration (CFDA). These included an adenovirus type 5 vector-based Ebola vaccine, diphtheria and tetanus toxoids, a component pertussis vaccine adsorbed, and a polyvalent meningococcal conjugate vaccine.
Marketing commentaryon CanSino
Tianjin CanSino Biotechnology is a biotechnology company based in China. The company was founded in TEDA in 2009 and is engaged in the research and development (R&D), manufacturing and commercialisation of vaccine products for human use. It develops vaccines for China and other emerging countries.