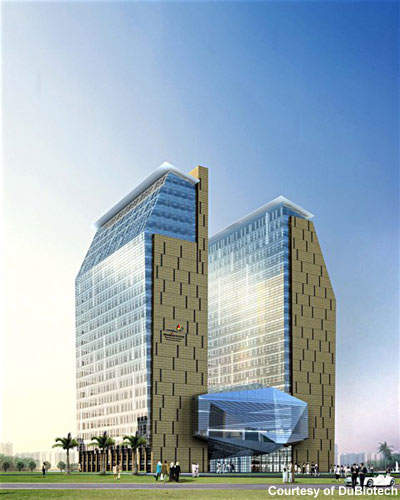 The double-tower HQ building of the DuBiotech complex was completed ahead of schedule. Credit: DuBiotech.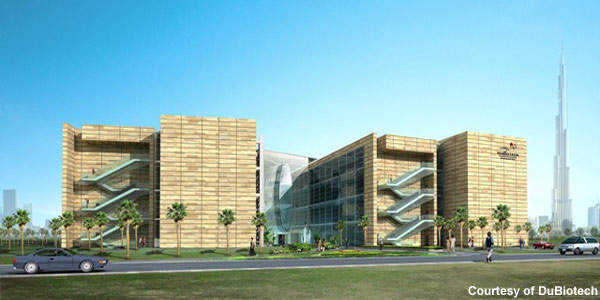 The Nucleotide Lab Complex building began operations in December 2009. Credit: DuBiotech.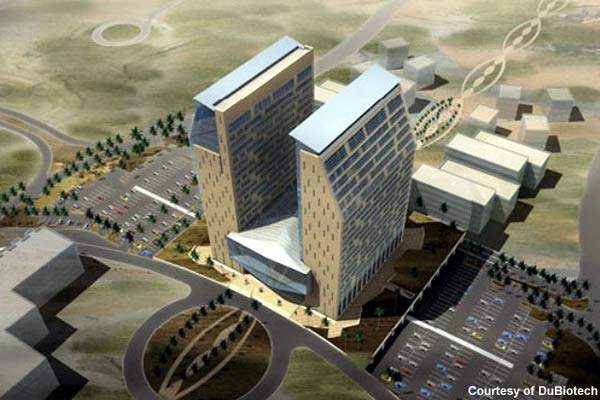 The DuBiotech complex occupies an area of around 30 million square feet. Credit: DuBiotech.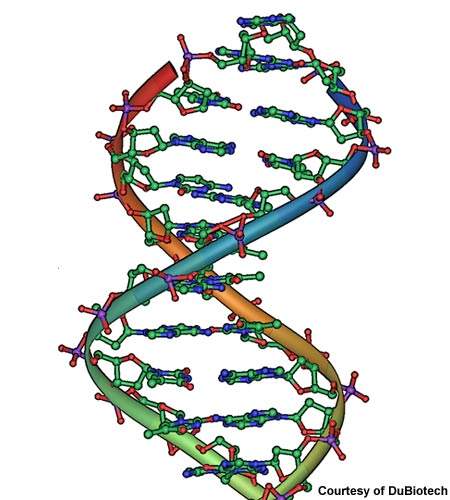 The Nucleotide building has four wings: A, T, C and G, which are named after the DNA nucleotide bases. Credit: DuBiotech.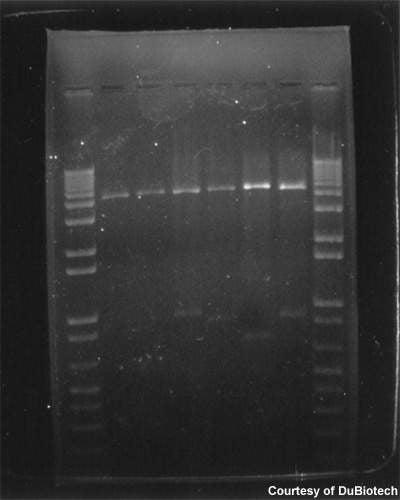 The HQ building architecture is based on an agar gel electrophoresis plate analysing DNA fragments. Credit: DuBiotech.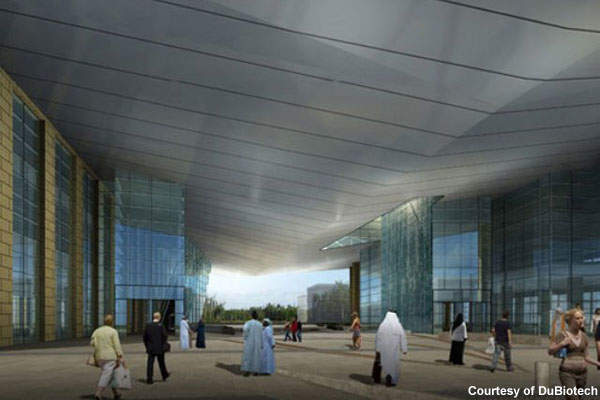 The first phase of the DuBiotech park has attracted more than AED1.2bn ($326.6m) in investment. Credit: DuBiotech.
Dubai Biotechnology and Research Park (DuBiotech) is a science and business park located in Dubai, United Arab Emirates (UAE), that supports the biotechnology and pharmaceutical industries.
DuBiotech was officially launched in February 2005 by Sheikh Mohammed bin Rashid Al Maktoum, vice-president and Prime Minister of the UAE.
The project was a major part of the Dubai 2010 scheme, which aimed to build the city's economy on a more knowledge-based footing. It was expected to attract more biotechnology and life sciences research, development and manufacturing to the country.
DuBiotech is a subsidiary of the Government of Dubai's holding company, Dubai Holding, and a member of Dubai Holding's real estate unit, Tecom Investments. The DuBiotech park was set up under the Dubai Technology and Media Free Zone Authority. PMC Solutions FZCO was the strategic partner in the setting up of the DuBiotech park.
In October 2015, DuBiotech began operating with the Energy and Environment Park, EnPark, under a joint umbrella, called Dubai Science Park (DSP). DSP houses more than 400 companies and 4,000 professionals.
DuBiotech research park details
DuBiotech is one of several free zones created in Dubai. It offers major tax advantages and services such as 50 years' exemption from personal, income and corporate taxes, long-term land leases, full foreign ownership and state-of-the-art IT and telecommunications infrastructure.
The research park also offers full repatriation of profits, trouble-free incorporation with little formality, government services division for registration, and fast-track immigration and customs procedures.
The DuBiotech entity has two operating arms. The first is the Foundation for Research and Innovation, which focuses on government-funded research and development (R&D) in areas such as medicine, genetics, agriculture and stem cell research. The second is a biotech cluster with high-quality infrastructure for incubators, research labs, manufacturing facilities, and educational facilities.
The master plan for the park divides it into zones focusing on different areas, including R&D, manufacturing and commercial or office use. The plan was produced by Parsons and CHU2A.
DuBiotech consists of the DuBiotech Headquarters (Bio-HQ) and the Nucleotide Lab Complex, a large-scale, four-storey laboratory complex designed for company R&D use. The Nucleotide Lab Complex became operational in December 2009, while the Bio-HQ was completed in 2018.
Phase One of the DuBiotech project
The first phase of DuBiotech was completed at the end of 2008. During this phase, DuBiotech partnered with relevant government authorities to develop the regulatory framework needed for biotechnological and pharmaceutical research in the area. To ensure that the actual business ecosystem was followed, DuBiotech benchmarked its regulatory framework with international best practices.
The first phase saw more than 50 international life sciences companies register with DuBiotech as business partners. These included Genzyme, Pfizer, Merck Serono and Amgen.
Phase Two of the research park project
The second phase included the completion of the Nucleotide LabComplex and the Bio Headquarters towers. Major life sciences industrial clusters were created in the Middle East while establishing a co-operation framework among government bodies, academic institutions and business partners.
The existing life sciences companies were also relocated to the new DuBiotech headquarters and labs during the second phase. In April 2009, Indian company VINS Bioproducts announced it would set up its regional headquarters at DuBiotech. In May 2010, the Spain-based Flores Valles Group established its Middle East subsidiary at DuBiotech.
DuBiotech helps in strengthening partnerships with governmental bodies in key areas such as regulatory affairs, federal and local policies, and academic projects.
Companies at the DuBiotech research park
Several companies have set up offices at DuBiotech to produce medical devices, pharmaceuticals and biotech products.
In December 2018, Pharmax opened its AED125m ($34.03m) production facility at DSP. In April 2019, US-based Global BioTherapeutics opened its regional headquarters at DSP. DSP welcomed Norwegian chemical company Jotun Group to its R&D hub in December 2019.
In March 2020, UK-based company Ideal Middle East instituted an office at DuBiotech as a base for its operations in the Middle East and North Africa (MENA) region and to promote the regional healthcare industry's digital transformation.
The Abu-Dhabi based New Medical Centre (NMC) Group established a biotechnology facility at the park. US-based BioMedix set up a 47,232ft² facility at DuBiotech to manufacture in-vitro diagnostic (IVD) equipment such as enzyme-linked immunosorbent assay (ELISA) kits, polymerase chain reaction (PCR) requisites, run controls, and proficiency panels.
In May 2010, Spain-based Flores Valles Group established its Middle East subsidiary at DuBiotech.
Details of DuBiotech's Nucleotide Lab Complex
Spanning an area of around 350,000ft², the Nucleotide Lab Complex comprises state-of-the-art laboratory buildings spanning four storeys. These were custom-built for industrial and scientific R&D, analytical testing, diagnostics, equipment training activities and after-sales services, among other purposes.
The complex was completed in 2009 with a capital expenditure of AED289m ($68m). It received Leadership in Energy and Environmental Design (LEED) certification in April 2010.
The core-and-shell lab is designed to serve the business sector by facilitating research and product development, diagnostics, and testing. The space of the complex can accommodate up to 160 laboratory units. These are designed to meet class III bio-safety standards and guidelines. The laboratory units have unique layout customisations with a biological safety cabinet and exhaust systems for air filtration. The air exhaust and ventilation systems were designed specifically to prevent cross-contamination between lab spaces.
The complex is also equipped with sterilised high-grade stainless steel mechanical equipment to ensure all required standards of hygiene are met. This equipment features pH neutralisation systems and acid-resistant drainage, as well as a backup power system.
The complex has four wings, A, C, T and G, which are named after the four nucleotides or bases that make up the structure of DNA. All four wings were booked at the time the complex became operational. Companies that agreed to relocate to the labs include MAQUET Middle East, a subsidiary of Sweden-based Getinge Group that produces operating room systems and ICUs, as well as Phase I of the National Reference Lab, an initiative by Mubadala Healthcare in association with Laboratory Corporation of America Holdings.
US-based construction company HDR developed the DuBiotech Nucleotide Lab Complex in partnership with Kling Consult. The complex was designed by CUH2A, a company that designs scientific facilities. It features a pre-clinical vivarium and an animal testing laboratory spread across 10,000ft² among other amenities.
DuBiotech's Neuro Spinal Hospital details
DSP added the state-of-the-art, next-generation Neuro Spinal Hospital to its premises in June 2021.
Developed with a AED700m ($190.58m) investment, the hospital offers specialised care for neurosurgical, orthopaedic and radiosurgery treatments. It features 114 beds and unique treatment options, including the first robotic cyberknife and radiosurgery centre and first brain surgical suite.
Details of the DuBiotech headquarters
One of the world's largest LEED-certified buildings, the DuBiotech headquarters was built with 22 levels on a 60,000ft² area. The building was designed by CUH2A.
In 2007, DuBiotech won the Design and Sustainability Honour Award from the American Institute of Architects for the technologically complex headquarters. The building's design is intended to reflect a DNA movement in gel electrophoresis, a technique commonly used in the industry. The two towers are flanked through a jewel case that contains the business centre and retail facilities.
The buildings have been situated and designed to make maximum use of natural light, as well as to minimise solar gain without resorting to more expensive AC cooling systems. The HQ also has a 500,000ft² animal reserve for indigenous conservation and wildlife protection.
Warehousing amenities and leasable land
The pre-built units are designed mainly for showrooms, distribution, storage, logistics, and light manufacturing for the pharmaceutical and biotechnology industries. With a focus on manufacturing research and development, this land can be leased by third-party investors.
The total leasable land area measures around 8.2 million square feet, with flexibility in size, starting from 38,000ft². These purpose-built warehouses are a convenient option for business in proximity to Dubai Park facilities.
in5 Centres
DSP's in5 Centres offer furnished spaces that cater to small and medium-sized companies and start-ups. There are three specialised innovation centres in the park, namely in5 Tech, in5 Design and in5 Media. These centres have collectively supported more than 500 start-ups.
The in5 Centres offer special training and mentorship programmes to investors, which aim to nurture ideas for business growth. The creative workspaces provide incubation space with an annual membership or equipment hire to support students and other entrepreneurs in working on their start-ups.