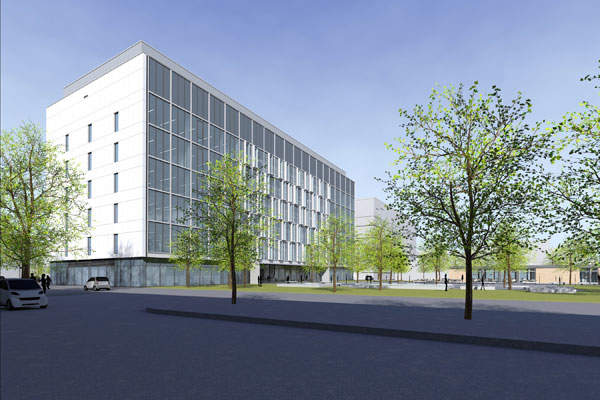 Merck Serono began building its laboratory building in September 2015. Credit: Merck.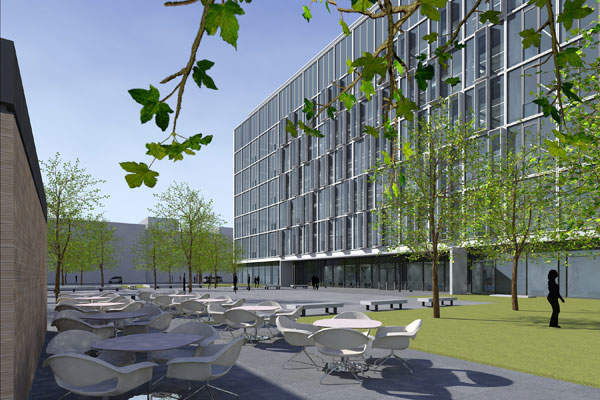 The new R&D facility will have a 16,000m² total floor space. Credit: Merck.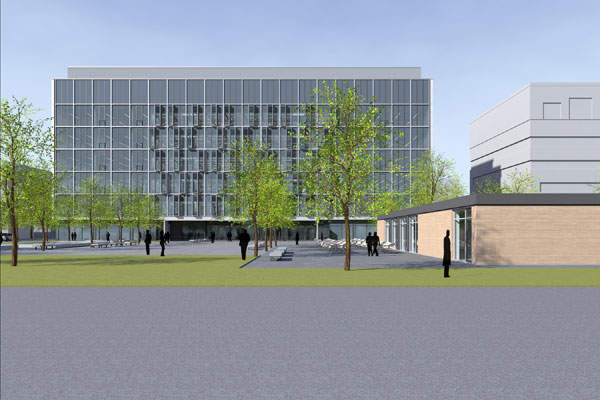 The research facility is expected to be completed by the third quarter of 2017. Credit: Merck.
In September 2015, Merck Serono began an expansion of its research and development (R&D) facility within the new Pharma Square on its campus in Darmstadt, Germany.
---
---
GlaxoSmithKline (GSK) unveiled plans to build a biopharmaceutical plant in the UK in February 2014.
---
The expansion includes the construction of a laboratory building that will accommodate around 200 employees to focus on accelerating innovation in R&D. The research building is part of a ONE Global Headquarters (OGHQ) strategic initiative.
Construction of the research building is expected to require a €65m ($73.83m) investment and be completed by late 2017.
The OGHQ expansion project has been under construction since September 2014 and is expected to be completed by 2018. It is intended to create an attractive working environment to offer sufficient scope for creativity and innovation. The OGHQ expansion also involves building a 4,000m² modular innovation centre.
Details of the Merck biopharmaceutical R&D facility expansion
The expanded biopharmaceutical research facility will include a new laboratory building covering an area of more than 16,000m². It will unite different functions within Merck's R&D discovery technologies, including molecular pharmacology, medicinal chemistry, computational chemistry, molecular interactions and biophysics, protein engineering and antibody technologies, and protein and cell sciences.
The addition of the laboratory building will be a significant element in the expansion of Merck's global headquarters in Darmstadt.
The research building is intended to enhance Merck's modern R&D activities in a single area to foster collaboration and innovation across disciplines, with the aim of creating ideal conditions to advance the company's biopharmaceutical pipeline.
It will have an open and modern environment and drive future growth for Merck by creating opportunities for discoveries that could bring value to both the company and patients.
The laboratory building will be built in compliance with current good manufacturing practice (cGMP).
Product portfolio of the Merck facility at Darmstadt
The Darmstadt R&D facility is the Merck Group's biggest manufacturing site and produces pharmaceutical products and organic synthesis, inorganic materials and reagents.
The plant has a state-of-the-art production facility designed to produce around half of all global tablet requirements and integrate scale-up and launch capabilities for future new chemical entities (NCEs).
"The expanded biopharmaceutical research facility will include a new laboratory building covering an area of more than 16,000m²."
Products produced at the facility will include Merck's cardio and metabolic care product range, including Glucophage®, Concor® and Euthyrox®. The site will also produce liquid dosage forms, sterile and non-sterile products.
Marketing commentary on Merck Serono
Based in Darmstadt, Germany, Merck Serono is a biopharmaceutical subsidiary of Merck. The company is engaged in the discovery, development, production and commercialisation of prescription medicines, including chemical and biological origin in specialist indications.
Merck Serono offers leading brands across 150 countries worldwide to help patients with cancer, multiple sclerosis, infertility, endocrine and metabolic disorders, as well as cardiovascular diseases. It also delivers novel therapies in core focus areas of neurology, oncology, immuno-oncology and immunology. The company operates by the name EMD Serono in the US and Canada.
Merck Serono has more than 2,300 R&D professionals working across four hubs in Darmstadt, Boston, Tokyo and Beijing. The Darmstadt R&D facility expansion is intended to enhance Merck's innovation in laboratories to reach patients in need worldwide.