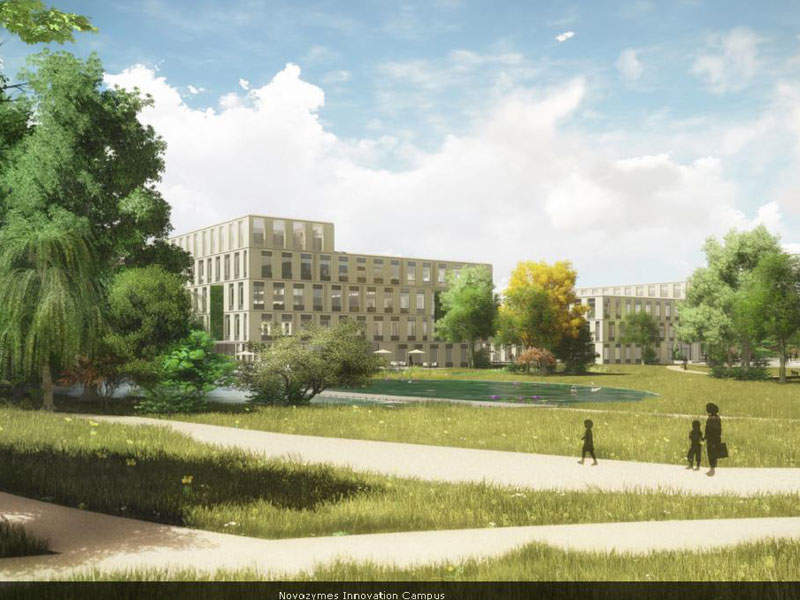 Novozymes' innovation campus in Copenhagen will cover a 140,000ft² area. Credit: Ramboll.
Aerial view of the innovation campus in Copenhagen, Denmark. Credit: Ramboll.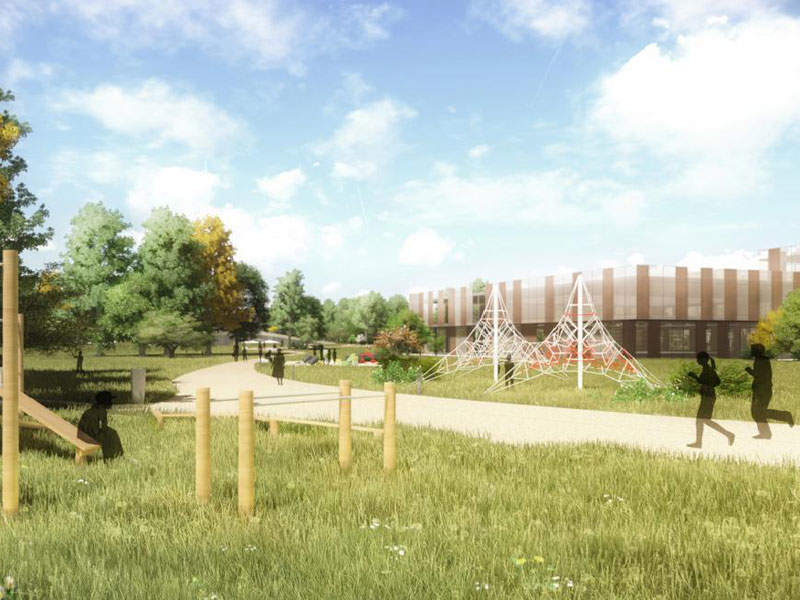 The innovation campus will include research facilities, laboratories and a learning centre. Credit: Ramboll.
Denmark-based biotechnology company Novozymes is building an innovation campus in Copenhagen.
The campus will be located in the Lyngby-Taarbæk municipality, around 13km north of Copenhagen. Its first phase of construction was expected to begin in October and is scheduled to be completed in late 2018.
The proposed campus will host Novozymes' biotech research and development (R&D) and has the capacity for future expansion to accommodate between 2,000 and 2,500 personnel.
The project is expected to create 800 regional jobs in R&D and other areas, as well as supporting education, research and business in the Lyngby-Taarbæk municipality.
Design of Novozymes' innovation campus in Copenhagen
Digital tools were used in the design process with the creation of virtual buildings, as well as 4D films to plan construction.
Green spaces and landscaping will be a key part of the facility. The campus' buildings are designed to be low-harmonic, complementing the surroundings and preserving existing forest areas.
A park and nature trail will also be developed, which will be open to the public. The project's landscaping is inspired by the adjacent Deer Park.
The buildings will feature large glass windows to provide optimal illumination, and will be interlinked with corridors to support transdisciplinary collaboration.
Facilities at the Novozymes innovation campus
The campus will be built on a 140,000ft² site and will include laboratories, a learning centre featuring teaching labs, a small cinema, and a café. The learning centre will provide opportunities for students and visitors to learn about nature and biology.
Phase I of the innovation campus will occupy 40,200m² and provide enough space for Novozymes' operation needs until 2023. The remaining 99,800m² area will be developed in future phases.
The construction of Phase I will include four buildings with around three floors comprising research facilities, laboratories and other business development areas.
A parking garage with a 10,000m² floor space will also be built in this phase.
Contractors involved in the project
In October 2016, Swedish construction company NCC was awarded a contract to provide construction services for the first phase of the innovation campus.
Danish company Ramboll is serving as lead consultant for the project and is responsible for coordinating with Novozymes to ensure project progression.
Danish architecture firm Vilhelm Lauritzen was contracted to act as the architect for the facility, while GHB Landscape is responsible for the landscaping design.
Marketing commentary on Novozymes
Based in Denmark, Novozymes is one of the world's leading biotechnology companies. Founded in 2000 by a demerger from Novo Nordisk, Novozymes is engaged in the supply of industrial enzymes and microorganisms for use in agriculture, animal health, industrial cleaning and wastewater treatment.
Novozymes achieved sales of kr14bn ($2.06bn) in 2015 and currently holds a 48% market share in the industrial enzymes market. It has invested around 14% of its revenue on research every year since its formation, contributing to the development of more than 100 novel products.
More than 20% of Novozymes' 6,500 employees work in R&D. Since 2005, the number of the company's employees in Denmark has increased from 2,100 to 2,700.