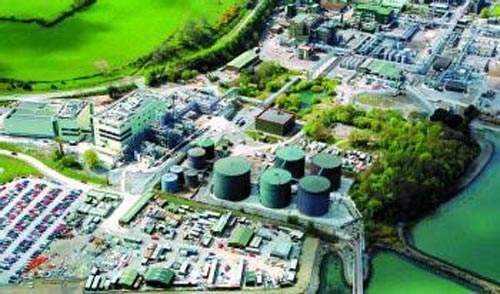 Pfizer's OSP4 synthesis facility at Ringaskiddy began construction in 1998 in response to anticipated global demand for Sildenafil citrate, the active pharmaceutical ingredient (API) of Viagra. The facility began production in mid-2001.
Pfizer's first facility in Ireland was a citric acid plant at Ringaskiddy in 1969. The company constructed the OSP1 synthesis plant in 1972 and commissioned the OSP2 plant in 1984.
The third synthesis plant, OSP3, required an investment of $130m and was completed in 1995, doubling production capacity. A later expansion saw an investment of $302m.
Pfizer now has seven sites in Ireland, which employ more than 1,400 people. The Ringaskiddy complex is the largest Pfizer production facility outside the US. The OSP4 plant produces APIs for Viagra, Norvasc, Zoloft and Zithromax.
Contractors and subcontractors
A construction contract for the plant was awarded to Foster Wheeler UK and Project Management of Cork.
A building contract for OSP4 was awarded to Sisk building contractors, which worked on the foundations, superstructure and cladding. It also installed external and underground services to the building. The Sisk contract was estimated to be worth £30m.
Architectural glass for the curtain-walling of stairwells and thermally broken windows was provided by Classic Building Solutions, while Douglas Control and Automation provided control, automation and data management systems for the OSP4 plant along with being involved in validation.
"With a net profit of $2bn in 1998, Pfizer has invested more than $362m in Ireland since 1994."
Solartron Mobrey installed short fork level switch squing as an intrinsically safe sensor system to detect chemical levels as part of the solids containment system. The Squing, constructed from hastelloy for corrosion resistance, was installed in head tanks, filters and crystallisation vessels.
Squing was used because of the absence of secondary electronics and its reliability.
Heinzer Eco-management carried out a pre-assessment of the OSP4 environmental management systems in 2000 as part of a pre-validation check.
Viagra manufacturing
Pfizer manufactures the APIs for Viagra at its Ringaskiddy site, which accounts for 15% of its total output. The company also produces around 17 other products, including Norvasc, which is used in the treatment of hypertension and angina and is one of Ireland's largest sources of investment.
The facility at Ringaskiddy, County Cork, covers 200 acres, has four production units and employs 500 people. The OSP4 plant started production in 2001 and allowed the plant to increase production by 40%.
The company contributes close to $151m to the Irish economy. With a net profit of $2bn in 1998, Pfizer has invested more than $362m in Ireland since 1994. This investment included the construction of new offices and warehouses in Dublin to provide a distribution network for Pfizer products in Ireland.
Organic synthesis plant
Foster Wheeler and Project Management were responsible for the construction of the OSP4 plant and a finished goods building (FGB), alongside all supporting services.
The relationship between Foster Wheeler and Project Management allowed for Foster Wheeler to be in overall control and thus responsible for work carried out by Project Management.
The design of the plant utilised Foster Wheeler's project management system and was closely modelled on the OSP3 plant at Ringaskiddy. The OSP4 facility is capable of producing primary bulk, batch pharmaceutical products at a nominal reactor capacity of 150,000l and six lines of these at full production scale.
In 2003, Pfizer sought planning permission to build a third liquid waste incinerator at Ringaskiddy to service OSP4.
The products manufactured at the plant are bulk active ingredients or drug substances. The bulk materials are shipped to other Pfizer sites where they are incorporated into their finished formulations and packaged.