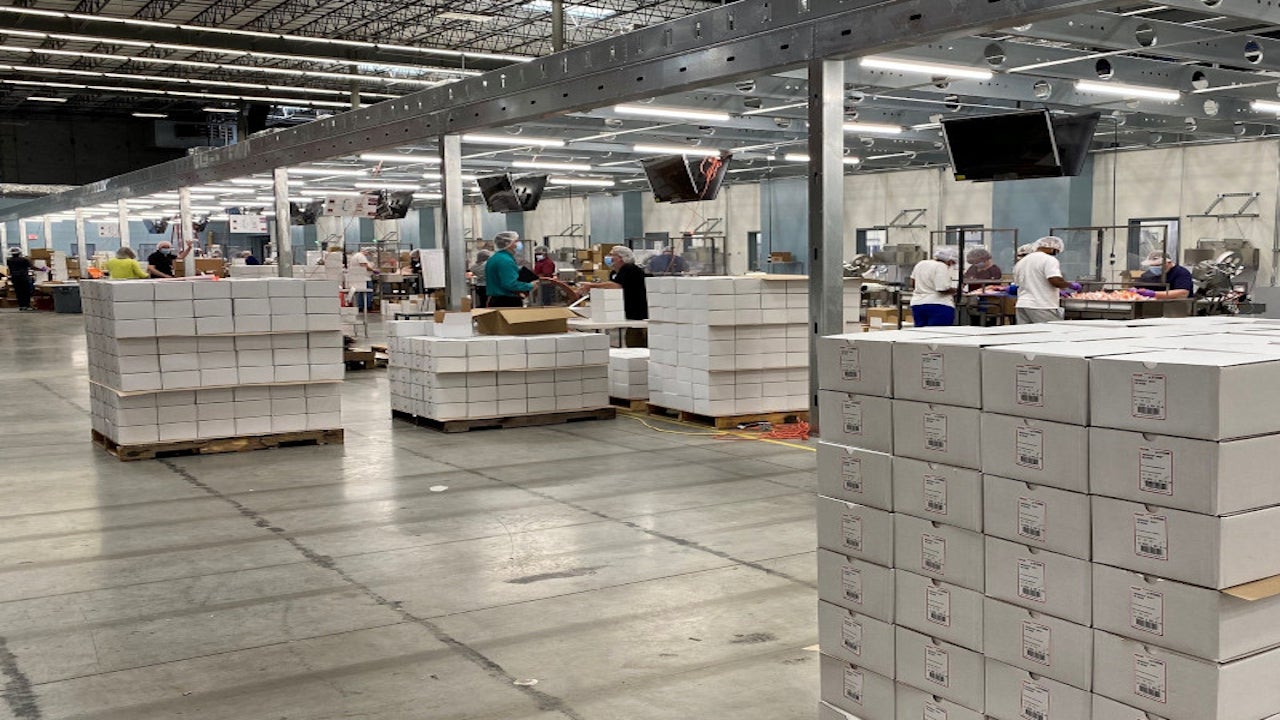 Thermo Fisher Scientific's new manufacturing site for Covid-19 sample collection products is located in Lenexa, Kansas. Credit: Thermo Fisher Scientific Inc.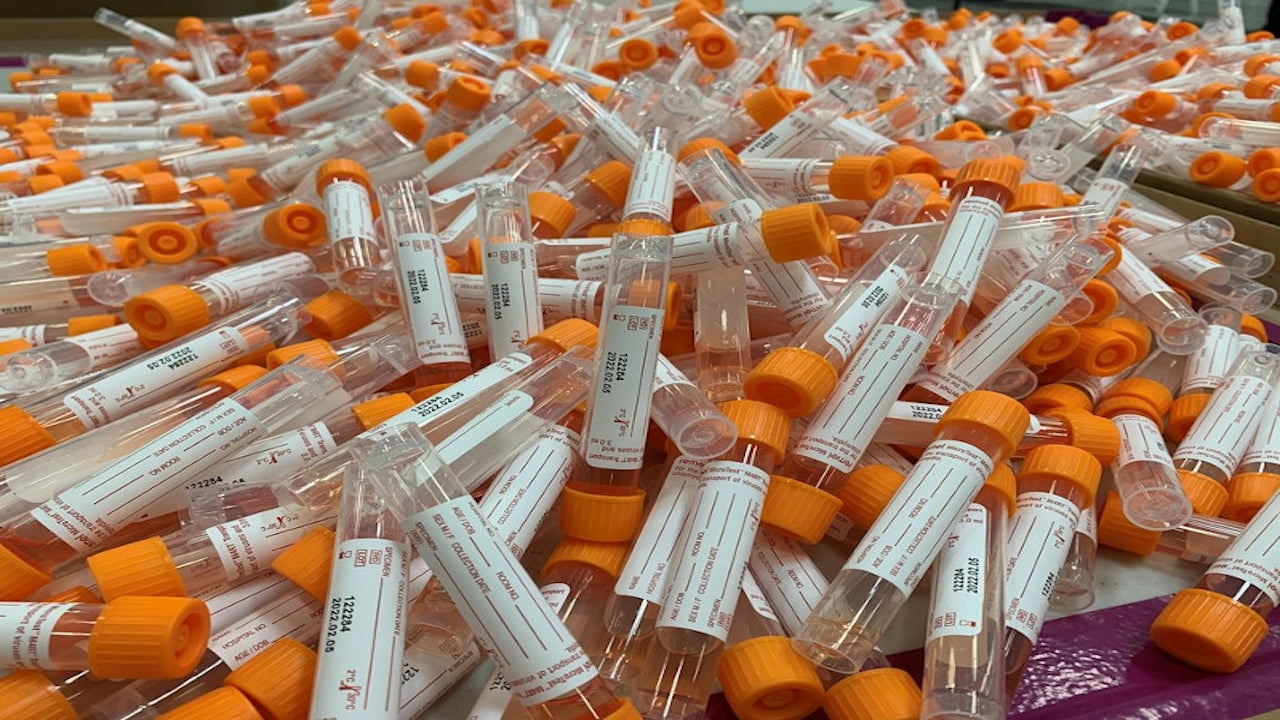 The new facility in Lenexa produces more than eight million viral transport media (VTM) units per week. Credit: Thermo Fisher Scientific Inc.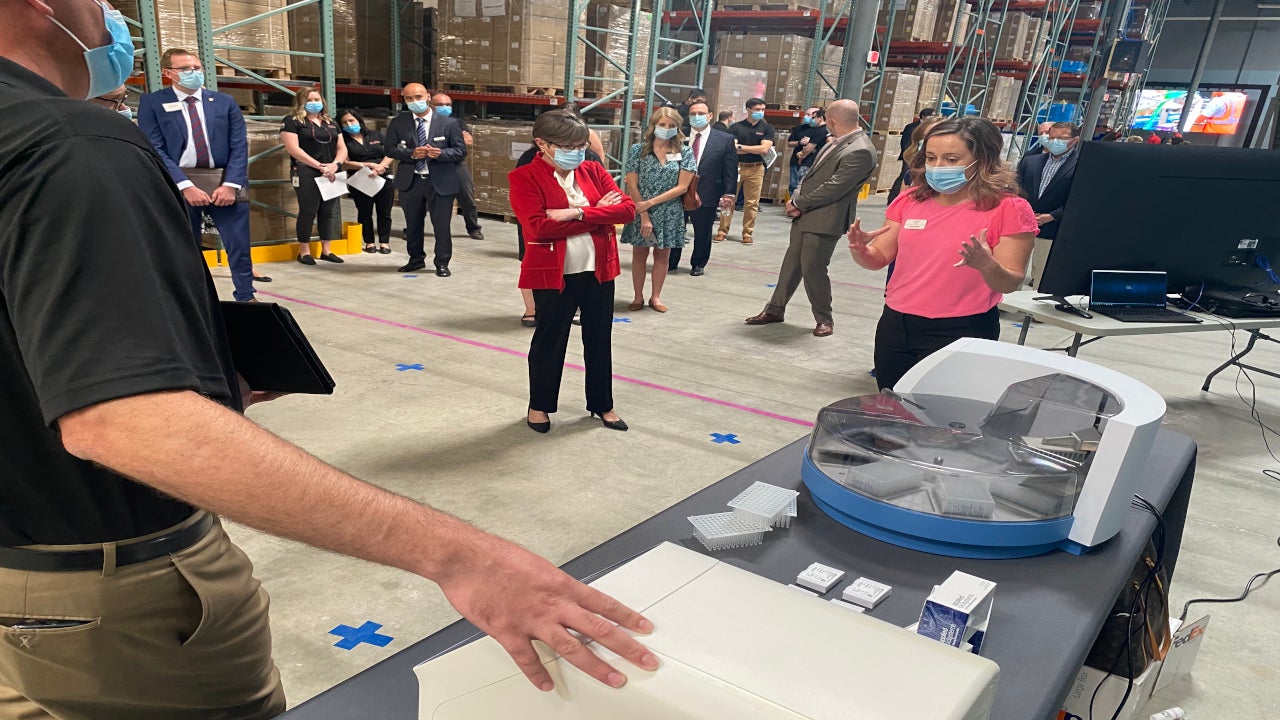 The manufacturing facility employs 300 full-time staff. Credit: The Office of Governor, Kansas.
Thermo Fisher Scientific opened a new manufacturing facility in Lenexa, Kansas to meet the increasing demand for viral transport media (VTM) being used in Covid-19 testing in the US.
The new manufacturing facility was developed with an estimated investment of $40m after the US government contracted the company to provide highly specialised VTMs for COVID-19 sample collection in May 2020. Production was commenced in July 2020, while official inauguration was held in August 2020.
The facility began operations with an initial production rate of 50,000 VTM units a week. It currently manufactures more than eight million units a week and is expected to deliver more than 150 million units by the end of 2020.
The site can also be expanded to meet the requirements for the rising COVID-19 testing demand in future. The facility will subsequently focus on the new research and development activities related to COVID-19.
Thermo Fisher Scientific created 300 full-time jobs for the local community through the new manufacturing plant.
Thermo Fisher Scientific's new manufacturing facility details
The new manufacturing facility spans an area of 120,000ft² and handles the production and quality control of VTM products for COVID-19 sample collection.
VTM are plastic tubes used for the safe collection and transportation of patient samples to laboratories for virus detection.
The units help make sure that the sample collected from a COVID-19 nose swab retains viability while being transported to the laboratory for testing. VTM are manufactured and dispensed into tubes in an aseptic condition to maintain the accuracy of COVID-19 test results.
The VTM products made at the new facility will also be used to collect and sample flu and other viruses. The production will be ramped up by utilising the proven blueprint for high-quality production.
The VTM products will be distributed to the US states, local testing centres, and the Strategic National Stockpile (SNS), which is the national repository of critical medical supplies.
Thermo Fisher Scientific's COVID-19 response
Thermo Fisher has rapidly developed a new multiplex real-time RT-PCR diagnostic kit named Applied Biosystems TaqPath for rapid diagnosis of COVID-19, in response to the outbreak.
The company is partnering with its suppliers to ensure supplies and prioritise shipments for those consumers specifically involved in the efforts to control the COVID-19 outbreak. The partners include first responders, healthcare professionals, and clients who support patient safety and vaccine development.
Thermo Fisher generated revenue of approximately $1.3bn by providing products and services related to COVID-19 in the second quarter of 2020.
Marketing commentary on Thermo Fisher Scientific
Thermo Fisher Scientific is a biotechnology company based in the US. It has a workforce of more than 75,000 employees worldwide.
The company offers a mix of breakthrough technology, convenient purchases, and pharmaceutical services via its brands, including Thermo Scientific, Applied Biosystems, Invitrogen, Fisher Scientific, Unity Lab Services, and Patheon.
Thermo Fisher Scientific also provides custom solutions, enterprise services, training, enterprise-level lab informatics services, lab instruments and equipment services, finance or leasing plans, product plans, product testing and inspection solutions, as well as CDMO and clinical trial services.
It works internationally with government agencies and researchers to ensure priority access to instruments, consumables, safety supplies, and other items to resolve the epidemic particularly in virus identification, diagnosis, and personal safety.