Zayed Centre for Research into Rare Disease in Children, London
Construction of the Zayed Centre for Research into Rare Disease in Children in London, UK, is expected to begin in March 2016
Type
Research centre for rare diseases in children
Start of Construction
March 2016
Expand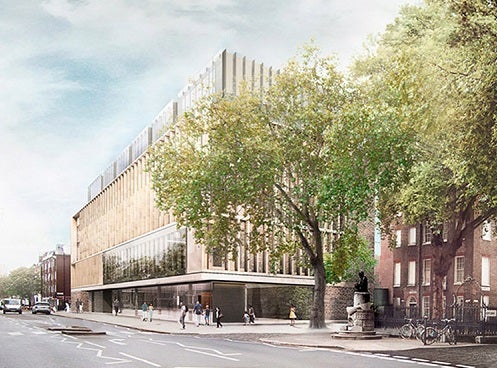 Construction of the Zayed Centre for Research into Rare Disease in Children in London, UK, is expected to begin in March 2016. The research centre will be located near Great Ormond Street Hospital (GOSH) and the University College London (UCL) Institute of Child Health (ICH).
The new research centre will have the facilities for clinicians and researchers to work together to understand rare diseases, identify new and better treatments and manufacture innovative medical devices.
The facility is named in the honour of Sheikh Zayed bin Sultan Al Nahyan and being developed as a partnership between GOSH and UCL. The plans for the construction of the facility were approved by councillors at Camden Town Hall in March 2015. The construction is expected to be completed by 2018.
Location
The research facility is located adjacent to Great Ormond Street Hospital, which treats approximately 1,300 children from more than 80 countries.
Facilities at the rare disease research centre
The new research facility will have a six-storey building with a total floor space of more than 13,000m². It will have two set-back levels and be equipped with sophisticated laboratory facilities and a large out-patient facility spread across two floors.
The facility will include a variety of laboratories, specialist equipment rooms, and workspaces for experts to develop diagnostic procedures, manufacture gene and cell therapies, as well as create personalised medical devices. Two large laboratories will be located on the lower ground floor.
Cardiology and flow cytometry suites for the counting, storing and analysis of cells with laser technology will be included. Freezers and liquid nitrogen stores will also be part of the facility.
A good manufacturing practice (GMP) facility will be located on the fourth floor, which will carry out research on 6,000 known conditions, including cancers, cystic fibrosis and muscular dystrophy. It will manufacture specialist products for novel therapies, which will help develop regenerative medicine programme for children with absent or damaged tissues.
It will accommodate roughly 400 academics and clinical staff, as well as 150 laboratory bench positions. It will also house more than 200 patients and accompanying family members.
Sustainability features
The facility will be constructed to achieve Building Research Establishment Environmental Assessment Methodology (BREEAM) certification. It will be equipped with a high-performance building envelope, which preserves heat and prevents damp.
"The facility is named in the honour of Sheikh Zayed bin Sultan Al Nahyan and being developed as a partnership between Great Ormond Street Hospital and UCL."
Other sustainability measures include low-energy and motion-responsive lighting, water conservation systems and rainwater recycling, combined heat and power (CHP) plant, use of recycled materials for construction, solar panels at roof level to supplement the energy needs, and a green roof.
Contractors involved
The £42m ($60.27m) design contract was awarded to Stanton William Architects. Other contractors associated with the project include Gardiner & Theobald as cost consultant and project manager, BHSLA as landscape architects, and Pell Frischman as structural engineer.
Hoare Lee is the services, environmental and BREEAM engineer, Turner & Townsend is the CDM coordinator, DP9 is the planning consultant, and Eckersley O'Callaghan is the façade consultant.
Financing
The total cost for the construction of the Zayed Centre for Research into Rare Disease is estimated to be £90m ($129.04m).
The project was initiated by the chairwoman of the UAE General Women's Union, Her Highness Sheikha Fatima bint Mubarak, the wife of the late Sheikh Zayed bin Sultan Al Nahyan, who donated £60m ($86.10m) for the project in July 2014.
Great Ormond Street Hospital Children's Charity will raise £20m ($28.70m) of funds, while a £10m ($14.35m) grant will come from the Higher Education Funding Council for England's Research Partnership Investment Fund.
Cytiva opened a new facility for manufacturing Xcellerex XDR bioreactors in Shrewsbury, Massachusetts, US, in December 2020. The new manufacturing…