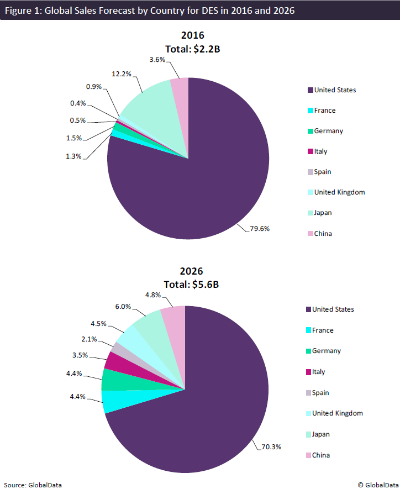 Significant opportunities remain within DES market to fulfil unmet needs
With a rapidly accelerating worldwide prevalence and limited treatment options available, there is growing pressure for new therapies and curative treatment for Dry Eye Syndrome (DES) patients. Significant efforts are being made to develop a new treatment for DES, as current pharmacologic management is known to only provide temporary symptomatic relief.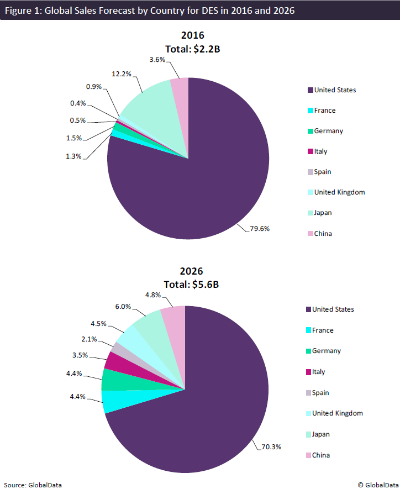 GlobalData's newly published report 'Dry Eye Syndrome: Global Drug Forecast and Market Analysis to 2026' provides an overview of the current competitive landscape of DES in the 8MM (US, France, Germany, Italy, Spain, UK, Japan, and China). It also provides pipeline analysis of candidates in late-stage clinical development, as well as annualized DES market revenue and 10-year forecast of the DES market in the 8MM.
Both Allergan and Santen have long been dominating the US and Japan markets, respectively. However, this is on the cusp of changing with the expected launch of numerous promising pipeline drugs during the forecast period, which will be a significant driver of growth in the 8MM. This change has already been initiated with the recent launches of Shire's Xiidra (lifitegrast) and Santen's Ikervis (cyclosporine) in the US and Europe.
GlobalData estimates that DES pharmaceutical sales in the 8MM will grow to $5.6B by 2026 at a compound annual growth rate (CAGR) of 10.1%. In addition, the DES market will see an increasing number of new players in the US and 5EU during the forecast period. RegeneRx, Sun Pharma, Aldeyra, Sylentis, Novartis and Dompe are among the companies that are anticipated to gain a strong presence in the DES space. RegeneRx's RGN-259, a thymosin beta-4 product, is expected to be the most successful drug, making up the largest share of the DES market by 2026.
While new therapeutics enter the market, unmet needs for curative therapies for this highly prevalent disease is not expected to be completely fulfilled by these promising pipeline products. As such, considerable market opportunities remain for drugs that can demonstrate promising efficacy, safety and tolerability, and also address the underlying cause of DES.
Hayley Chan, Ophthalmology Analyst at GlobalData, comments:
"The exploration of distinct anti-inflammatory drugs and therapeutic agents that target different MOAs are constantly stressed by KOLs, particularly for drugs that target neuropathic pain associated with DES."
"Furthermore, the diverse and multiple etiologies of DES means that a patient can present with various subtypes, and that single therapy is no longer enough to treat the conditions, indicating a crucial need for combination therapy."
Highlights of the report include:
KOL insight on the impact of pipeline therapies in future treatment landscape in DES space
Strategic competitor assessment
Market outlook for DES therapies
GlobalData's latest report will help to identify areas of unmet need within the DES therapeutics market and help drive R&D towards future market opportunities. The report will also assist in formulating effective sales and marketing strategies by detailing the current competitive landscape and analysing portfolios of various competitors, as well as gain insights to help plan clinical trials.
If you would like any more information on this report, please visit the GlobalData Report Store.