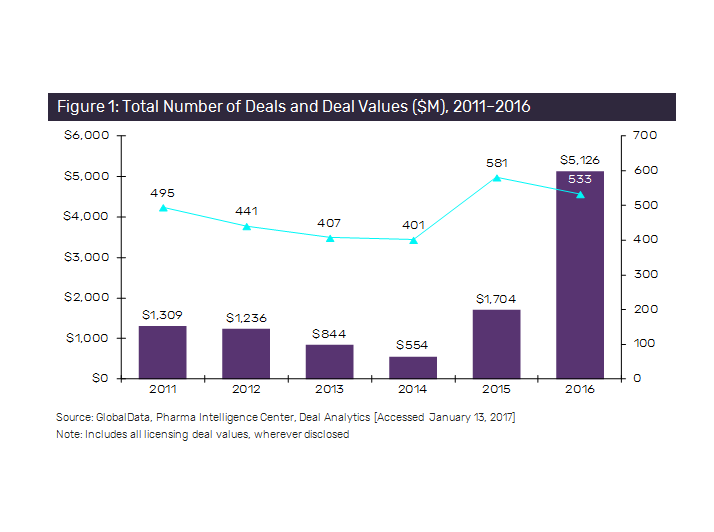 In 2016, there was a surge in deal values between the biopharmaceutical industry and non-profit organizations. While the number of deals fell by 8.3% year-on-year to 533 in 2016, deal values skyrocketed by over 200% year-to-year, from $1.7B in 2015 to over $5.1B in 2016. GlobalData believes one of the main drivers in deal values was financial investment on behalf of the biopharmaceutical industry to scale-up emergency preparedness and response efforts to potential bioterrorism, including such threats as anthrax and ricin poisoning.
Figure 1 displays the number of deals and deal values from 2011-2016.

BARDA leads the deal-makers
Within the Office of the Assistant Secretary for Preparedness and Response, the Biomedical Advanced Research and Development Authority (BARDA) is a division of the US Department of Health and Human Services, and provides an integrated, systematic approach to the development and purchase of necessary vaccines, drugs, therapies, and diagnostic tools for public health emergencies. BARDA manages Project BioShield, a ten-year program for the procurement of materials for the Strategic National Stockpile (SNS) and the deployment of countermeasures, principally against bioterrorism, but also against chemical, nuclear, and radiological threats.
Since the 2001 US terrorist attacks, the US government has allocated nearly $50B to address the threat of biological weapons. US funding for bioweapons-related activities focuses primarily on research for and acquisition of medicines for defense. While significant funding goes to BARDA, deals and awards are distributed across 11 federal agencies. As seen in the table below, BARDA has several priorities, mainly anthrax preparedness; however, recent outbreaks of the mosquito-borne Zika virus in Florida, Texas, and Central America and Latin America (CALA) are receiving considerable funding attention.
The Biomedical Advanced Research and Development Authority (BARDA) has signed 15 deals with the biopharmaceutical industry since 2011, for a total deal value of nearly $2.8B, making it the top deal-making, non-profit organization.
Table 1 summarizes BARDA's alliance history from 2012–2016.