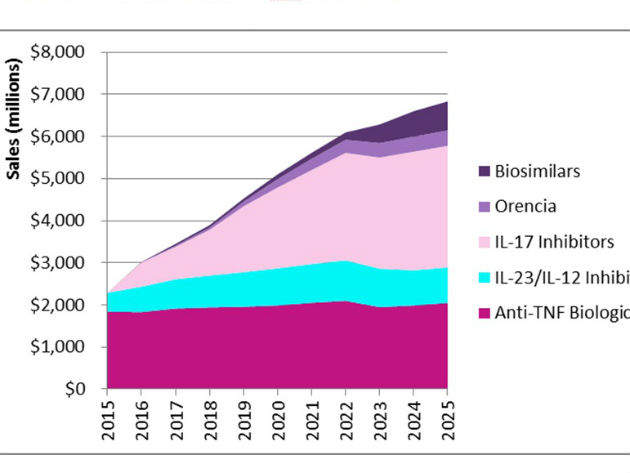 On July 6, the FDA approved Bristol-Myers Squibb's Orencia (abatacept) for the treatment of adults with active psoriatic arthritis (PsA). Although Orencia, a selective co-stimulating modulator inhibiting T-cell activation, is a first-in-class biologic for PsA, the drug will face strong competition from established biologic drug classes, including anti-tumor necrosis factor (anti-TNF) therapies, interleukin-12/23 (IL-12/23) therapies, and IL-17 therapies, as well as biosimilars, particularly those of the originator anti-TNF biologics. GlobalData forecasts that Orencia will have difficulty generating patient share from biologics in an already crowded PsA market, garnering first launch year sales of $24M in the US in 2017, and grossing sales of approximately $368M in 2025 (see Figure 1).
PsA is a chronic, immune-mediated type of arthritis that typically affects the large joints, including those of the lower extremities, the distal joints of the fingers and toes, the back, and the sacroiliac joints of the pelvis. For PsA, the last six years have seen an influx of novel biologic treatments outside the mainstay anti-TNF therapies, including Johnson & Johnson's Stelara (ustekinumab), an IL-12/IL-23 inhibitor; Novartis' Cosentyx (secukinumab), the first-to-market IL-17A inhibitor; and Eli Lilly's Taltz (ixekizumab), another IL-17A inhibitor. GlobalData anticipates Orencia will face fierce competition from established biologics, placing pressure on Bristol-Myers Squibb to market Orencia strategically in the PsA space.
Despite the anticipated challenges in the PsA market, Orencia's approval for PsA marks a milestone for Bristol-Myers Squibb's lifecycle management for Orencia, as the biologic is now available for three key rheumatic diseases: rheumatoid arthritis, juvenile idiopathic arthritis, and PsA. In addition, Bristol-Myers Squibb is conducting a Phase III trial to assess the safety and efficacy of Orencia as a treatment of lupus nephritis. According to GlobalData, Orencia will reach the US market for lupus nephritis in 2021, further expanding Orencia's presence in the autoimmune space.
That being said, Orencia will face a key drawback in PsA as it does not offer superior efficacy to current PsA biologics and has a less than comparable safety profile. Therefore, GlobalData forecasts that Orencia will be used as a second- or third-line biologic, as patients requiring a therapy beyond anti-TNF therapy will likely be prescribed an IL-17 or IL-23 inhibitor, since these drug classes are not only more mature in the PsA market space, but also demonstrate stronger safety and efficacy.