Analytical laboratories are constantly faced with the challenge of balancing high productivity with operational efficiency. And with hybrid work models growing in popularity since the start of the Covid-19 pandemic, gas chromatography (GC) operators are increasingly seeking remote access to their GC – both from different parts of the lab and from completely different locations.
The GC 2400 Platform from PerkinElmer helps you make faster decisions from anywhere, whether in or out of the lab. The innovative technology enables access to real-time chromatography information on the go, allowing the user to efficiently monitor the status of sample runs with a detachable, intuitively designed touchscreen.
In addition, the SimplicityChrom™ Chromatography Data System (CDS) Software maximises GC productivity and increases the automation of lab operations by allowing each step in the GC workflow to be integrated together, from instrument control to data processing.
Reduced downtime and increased productivity
PerkinElmer's GC 2400 Platform is designed to drive productivity by combining smart connectivity, simplified operations and sustainable solutions. The platform facilitates comprehensive and automated workflows and remote connectivity functionality supported by live system status, while the SimplicityChrom CDS Software is designed to expedite results at any experience level.
The GC 2400 Platform offers smart sampling capabilities to optimise operations, as well as status notifications and easy-to-maintain hardware. Tasks are driven by software and workflows are automated and comprehensive so that users can focus on results.
In addition, the platform features smart gas management to reduce its gas consumption, and uses hydrogen as a carrier gas with a built-in sensor to improve lab and operator safety. Its flexible, smart sampling capabilities can support sustainability and are designed to grow in sync with your lab's needs.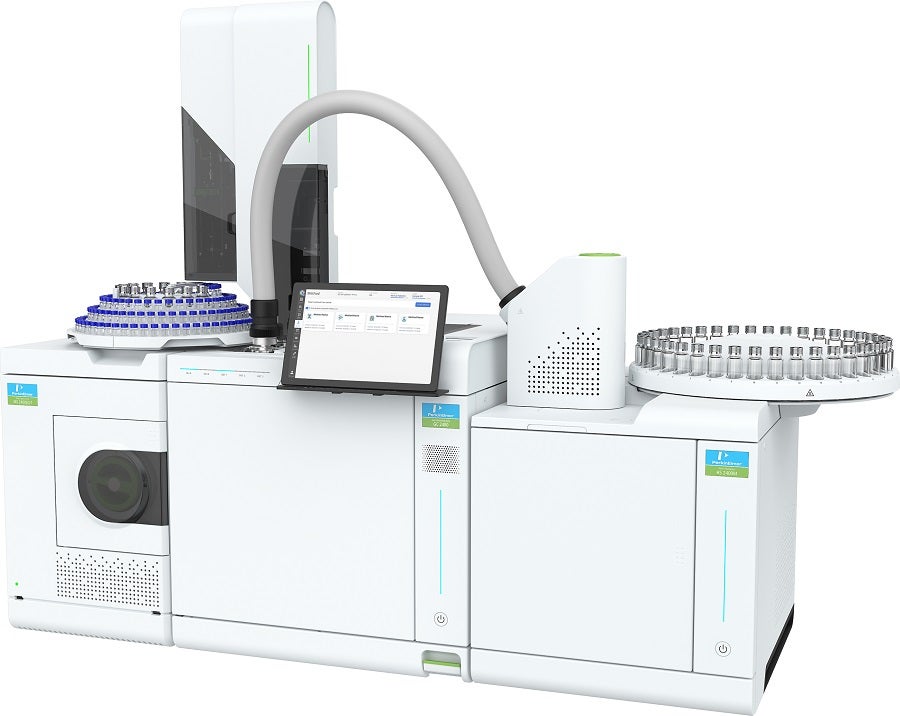 Streamlined, efficient gas chromatography via an integrated system
The GC 2400 Platform consists of four pieces of hardware and two software applications that come together to provide complete, efficient workflow solutions for gas chromatography. These are the AS 2400™ Liquid Sampler, MS 2400™ SQ Detector, GC 2400 System and HS 2400™ Headspace Sampler from PerkinElmer, as well as the Simplicity Vision™ App and SimplicityChrom CDS Software.
PerkinElmer's AS 2400 Liquid Sampler features plug-and-play towers that can be easily transferred between analytical channels or GCs without needing to be reconfigured manually. This significantly reduces downtime and increases overall lab output and return on investment. The sampler features both single and dual tower configuration options and has multiple tray capacities.
The MS 2400 SQ Detector offers accurate detections in full-scan mass spectra, selected ion full ion (SIFI) and selected ion monitoring (SIM) modes. The single-quad system provides labs with the flexibility needed to maximise sample throughput and operate smoothly and efficiently. Its exclusive Marathon™ Filament technology boasts exceptional durability and extended lifetime, while the SMARTsource™ Technology provides tool-free source access, cleaning and maintenance, giving your lab greater instrument uptime and sample throughput.
The GC 2400 System from PerkinElmer aims to offer a new experience for GC monitoring by providing crucial information from both inside and outside the lab at a glance. Its use of our SimplicityChrom CDS Software and Asset Genius™ solution allow it to automate the collection, visualisation and reporting of key performance data for insights into your most critical lab assets.
Our HS 2400 Headspace Sampler introduces samples into the column without the use of a gas syringe or valve and loop through its use of unique pressure-balanced sampling technology. This minimises many sources of variability and contamination, which enhances sample accuracy and reproducibility by avoiding dead volumes, carryover and peak distortion.
On the software front, Simplicity Vision allows for real-time status updates and monitoring of every step of the GC workflow, as well as instrument setup and pre-run manual operations. The programme can be used as a single or multi-instrument interface to enable operators to work remotely and make decisions on the go. SimplicityChrom CDS Software connects and integrates all steps of the GC workflow in an intuitive, flexible manner; the programme also supports compliance with 21 CFR Part 11.
Complete, integrated workflows for gas chromatography
The GC 2400 Platform is ideal for a range of analytical sectors and applications, from industrial and environmental analysis to food and pharmaceutical quality and safety testing. The platform offers connectivity and workflow integration for all points of the GC process.
PerkinElmer's OneSource Laboratory Services portfolio offers comprehensive workflow solutions for food, environmental, industrial and pharmaceutical analyses. These include services to guarantee regulatory compliance, support non-core yet critical laboratory activities, ensure your lab's IT system works correctly, and assist in the event of lab relocation.
To provide accurate residual solvent analysis in a timely manner, the GC 2400 Platform is one part of an analytical workflow that relies critically on efficiency. The SimplicityChrom CDS Software integrates the analytical workflow to offer an intuitive user experience when meeting compliance and traceability requirements.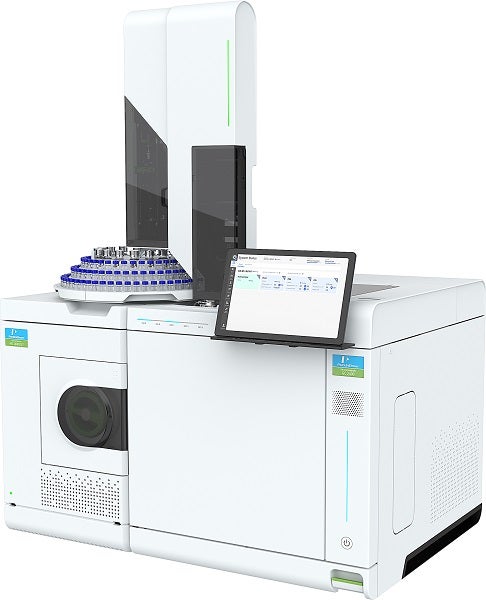 Selecting and preparing the ideal consumables
The GC 2400 Platform's innovative design and smart features are designed to make it easy for cutting-edge labs to access, operate and monitor their gas chromatographic separations, which are made from the rugged, reliable and reproducible columns that constitute the heart of any GC instrument.
PerkinElmer can help you select the best column to separate and accurately quantitate your sample, as well as offer stationary phases and column dimensions to suit your unique analytical needs. We have invested in in-house column manufacturing capabilities to offer a new level of reliability and performance – each new GC 2400 is shipped with a PerkinElmer-made column to make sure your instrument and analysis are accurate from the start.
In addition, we provide a full range of vital consumables to support your analytical workflow, with each consumable carefully chosen and engineered to give the best results.
For more information about the GC 2400 or any of PerkinElmer's other gas chromatography solutions, please click here or visit the company profile linked above. You can also watch this short video for more details on the GC 2400.