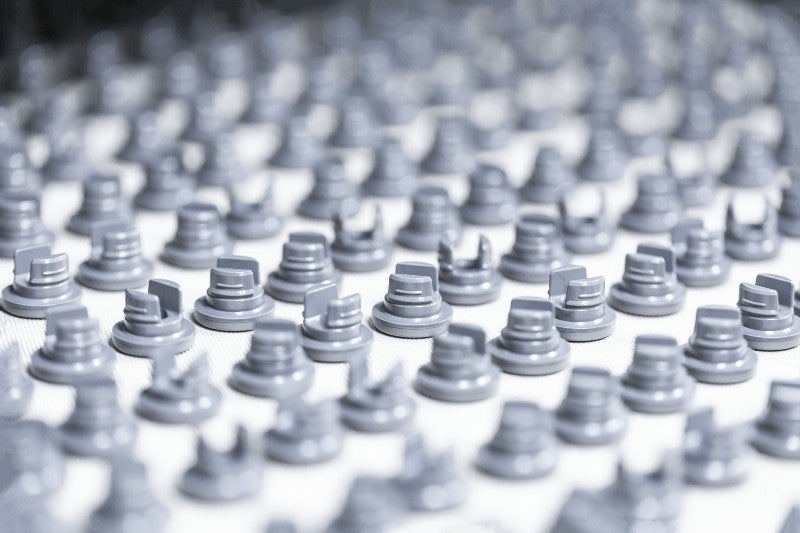 The demand for injectable drugs is rising. According to the GlobalData report Contract Injectable Packaging Trends in the Bio/Pharma Industry, more than half (55%) of FDA drug approvals in 2021 were accounted for by injectables. This was higher than the number of approvals in 2019 and 2020. In addition, in 2022, non-new molecular entity (NME) injectables approvals were the highest they have been for the last decade.
Several drug development trends are driving injectables demand. This includes the rising number of biologic drugs on the market, which are mostly administered parenterally.
During the Covid-19 pandemic, large-scale vaccine production placed unprecedented demand on the parenteral packaging industry. While production volumes have now fallen, future vaccine demand is hard to predict, as booster shots could be needed at any point to control emerging variants.
The injectable drugs market is currently valued at around $532 billion. Yet while demand for injectables soars, regulators are cracking down on quality requirements, forcing many pharma companies to examine the role – and risks – of their primary packaging.
The need for quality
When it comes to injectable medicine, achieving product sterility through aseptic manufacturing is of critical importance. Primary packaging is relied upon to protect and maintain this sterility across the shelf life of the drug. A poor choice of closure or a dimensional defect on a packaging component can impact the container's integrity, causing leaks, oxidation, and/or contamination.
There are additional risks to consider with parenteral packaging. Toxic extractables and leachables (E&L) can originate from low-purity packaging materials, entering the drugs and harming patients. In addition, packaging components are not entirely manufactured in a clean room environment, making them a potential source of exogenous contamination. Large-molecule drugs such as biologics are particularly sensitive to foreign contamination and E&L interaction, making these issues key concerns for pharmaceutical companies.
Regulators are also paying close attention to the risks. In August 2022, a final revision of the EU GMP Annex 1 was released stressing the importance of a holistic contamination control strategy in the manufacture of sterile medicinal products. The number of requirements in the revised Annex 1 has been significantly expanded from the original 2008 version and will come into force on 25 August 2023.
According to Barbara Santambrogio, Quality Key Account Manager at leading elastomer component manufacturer Datwyler, another significant regulatory trend is the importance of evaluating complete drug delivery systems rather than individual components.
"The requirements are moving in the direction of testing the full system," explains Santambrogio. "For instance, the US Pharmacopeia (USP) is working to remove Chapter <381> which is currently focused on the functional testing of primary packaging components. From 2025, it will be substituted with a new chapter on functional tests for the complete system."
Mitigate risks early-on
In order to comply with increasingly strict regulations, Santambrogio recommends close collaboration with packaging component suppliers. "It is very important to involve primary packaging component companies at the beginning, from the development of the complete system and the initial trials, not only in a second stage," she advises. "The regulations are also asking for not only a one-time test but for testing during the entire shelf life of a product. I suggest the pharmaceutical companies should be in close contact with the components company and work together in a real partnership to develop the right product and the right system."
Another step is to source the highest quality components available on the market. When it comes to highly sensitive large-molecule drugs, sourcing premium elastomeric components with a cleaner compound, such as Datwyler's FM457, is an essential step in reducing the E&L risk. Fluoropolymer coatings provide an additional layer of protection.
Reducing the risk of foreign contamination and dimensional defects, however, comes down to partnering with parenteral packaging suppliers that can demonstrate a Quality by Design approach to manufacturing. Datwyler's FirstLine® manufacturing standard was pioneered in 2009 with the aim of providing the highest level of innovation, quality, and safety in parenteral packaging manufacturing.
"FirstLine was developed with a zero-defect philosophy," explains Santambrogio. "It came from the idea that we can have the cleanest compound and we can coat the stopper, but if there is foreign contamination then we are in the same risky conditions as with an impure compound or an uncoated stopper."
Striving for zero-defects
FirstLine satisfies the pharmaceutical industry's most demanding requirements through robust, best-in-class processes housed within a cleanroom environment. The manufacturing standard is characterised by a high level of automation. As products progress towards final packing, complete automation with no manual handling reduces the risk of contamination and human error. A zoning concept with pressure cascades is deployed to prevent bio-contamination in manufacturing areas, with advanced pass-through cleaning equipment transferring products between zones.
A sophisticated monitoring system is used to control every element of the FirstLine manufacturing environment, including particle, temperature and moisture levels. Automated camera inspection checks each component for defects, while integrated metal detection provides an extra layer of defence against contamination. Moreover, components coated with Datwyler's proprietary fluoropolymer spray coating are only manufactured in FirstLine facilities.
With pharma companies under constant pressure to improve quality and reduce the risk of contamination, demand for FirstLine manufacturing continues to rise. Datwyler currently has three FirstLine facilities in Belgium, India, and the US. In recent years, the expansion of FirstLine manufacturing capacity in India and Belgium, complemented by automation projects in Belgium and the company's sophisticated new operations IT infrastructure, are enabling Datwyler to continue meeting customers' needs for quality, flexibility, and risk mitigation. In 2022 alone, the company increased FirstLine capacity by 15%.
Looking towards the future, Santambrogio says continuous improvement is Datwyler's goal, especially considering quality requirements will no doubt be even stricter ten years from now.
"FirstLine is always in evolution," she says. "We have a global system for moving our operational excellence forward, not only in terms of productivity, reduction of cost, and improvement of deliveries, but also to reach the perfect product for our customers through Quality by Design and then maintaining that level of quality throughout manufacturing."