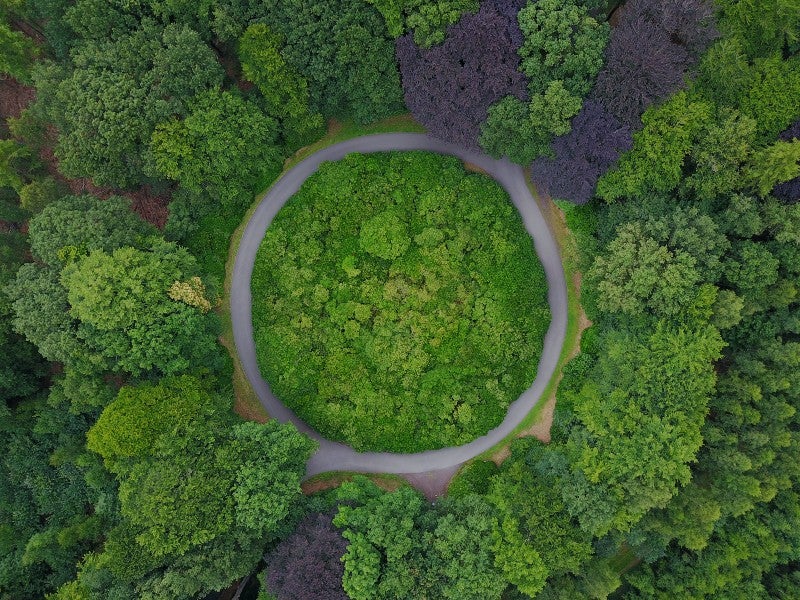 Single-use technologies (SUT) have become a mainstay of the biopharmaceutical industry due to proven benefits in costs, performance, and hygiene. SUT allows the biopharma industry to set up factories quickly and flexibly, enabling innovators to rapidly respond to unexpected events such as the COVID-19 pandemic.
Despite these advantages, the main drawback of single-use technology is apparent from the name. Made from high-performance polymers, SUT consumables are used once and thrown away, typically heading to landfill or incineration.

Within the biopharma industry and across other sectors, single-use plastics have rightly become a hot topic of debate. When items made from these materials go to landfill, they may take hundreds or thousands of years to decompose, polluting soil and water with potentially dangerous contaminants in the process. Incinerating the plastic releases emissions and pollutants that are harmful to the planet and human health and is in no way a better alternative.
With the biopharma industry under pressure to build a more sustainable future, it is no wonder that much scrutiny has fallen on its increasing adoption of single-use systems in place of reusable stainless-steel types. However, those dismissing SUT for environmental reasons have often missed the full picture.
The environmental benefits of SUT
In biomanufacturing, traditional stainless-steel equipment necessitates huge amounts of heat and water for cleaning and sterilisation between batches. Often, a larger carbon footprint results from these processes than any other in bioprocessing. Switching to SUT can save significant CO2 emissions, while avoiding extensive use of harsh cleaning chemicals and heavily reducing water consumption.
According to a landmark study by Cytiva, the end-of-life disposal of single-use components has minimal impact compared to the energy consumption required to clean stainless-steel systems between batches.
While no one can deny that the plastic waste caused by SUT is an important issue, the biopharma industry must look at the single-use sustainability conundrum more holistically. The industry must consider the whole product lifecycle and its impact on climate change, human health, ecosystem quality, and resource and water consumption.
This is precisely what Cytiva set out to do in 2010-12 and again in 2016-17 with its Life Cycle Assessment (LCA) studies, comparing the environmental impact of single-use and conventional process technology for the production of monoclonal antibodies. Rather than focusing solely on the equipment's end-of-life, important supply chain and use-stage factors were also considered. The studies were subjected to third-party critical panel review and published in a peer-reviewed journal.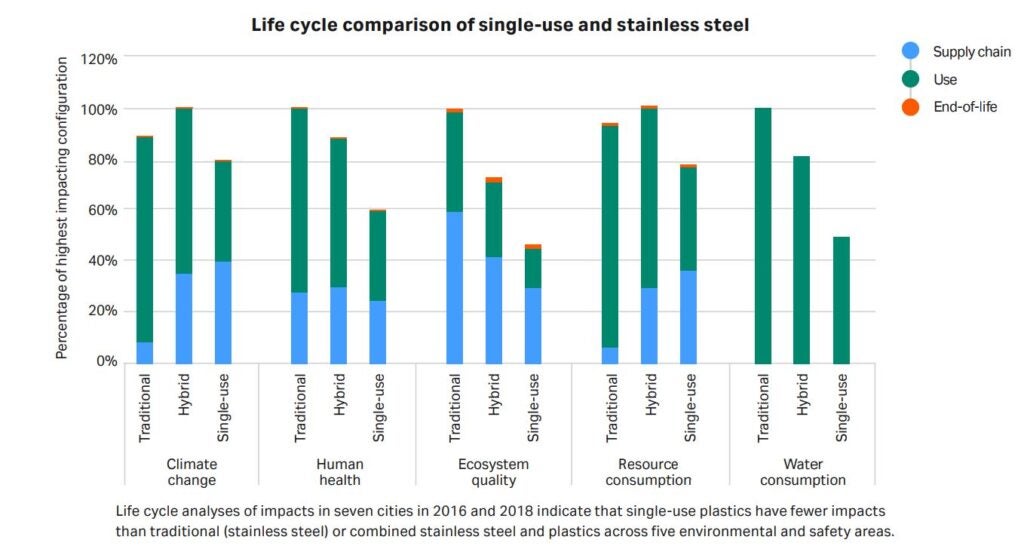 Figure 1 compares the impact that the lifecycle of SUT and stainless-steel systems have on five important ESG areas. Data was collected across seven cities in 2016 and 2018. End-of-life disposal is autoclaved followed by landfill.
The findings show a lower impact for the single-use technologies in each of the five categories studied. And when compared to supply chain and use-stage factors, end-of-life factors have minimal impact.
The study also found that the geographic region where the single-use equipment is located, and the cleanliness of the local electricity grid, strongly influence the environmental impact.
A circular future
Cytiva is a global provider of bioprocessing technologies and services, with products used in the manufacturing of the majority of mAbs (monoclonal antibodies) approved by the FDA in 2020. Many of these products are single-use platforms under technology brands such as the Xcellerex™ systems and their FlexFactory™ platform.
Cytiva's core mission is to advance and accelerate the development and production of transformative therapeutics. And single-use plastics play an essential role in achieving this vision safely and securely.
While SUT has environmental advantages over stainless-steel, its widespread use still comes at a cost to the environment and biodiversity. Minimising this impact is critical for Cytiva. As explained in the company's 'Designing in Sustainability' plan, this will mean shifting towards more eco-friendly alternatives, with a long-term objective to achieve circularity and deviate from the traditional "take-make-dispose" economy. For Cytiva, this will involve lowering its consumption of finite resources, reducing waste generation and maximising the lifetime of its products.
With such an ambition ahead, setting targets for measuring success is critical. By 2025, Cytiva aims to ensure that 50% of its single-use products and components are recyclable. The plan is to reach 100% by 2030.
Meanwhile, the company is also making a concerted effort to better understand how its plastics are disposed of throughout the value chain. To achieve this, collaborations with customers are integral. In 2020, Cytiva announced a partnership with Roche that seeks to use the latter's downstream insights to discover smart, science-based solutions for better waste management. In addition, Cytiva has launched a collaboration with Bayer's biotech operations to determine solutions for recycling plastics that would otherwise go to landfill or incineration.
With sustainability high on the agenda for the entire industry, it is time to rethink single-use technology and the role it can play in a more sustainable future for bioprocessing. Moving forward, collaborative efforts such as those of Cytiva and its customers will be the true catalyst for change.