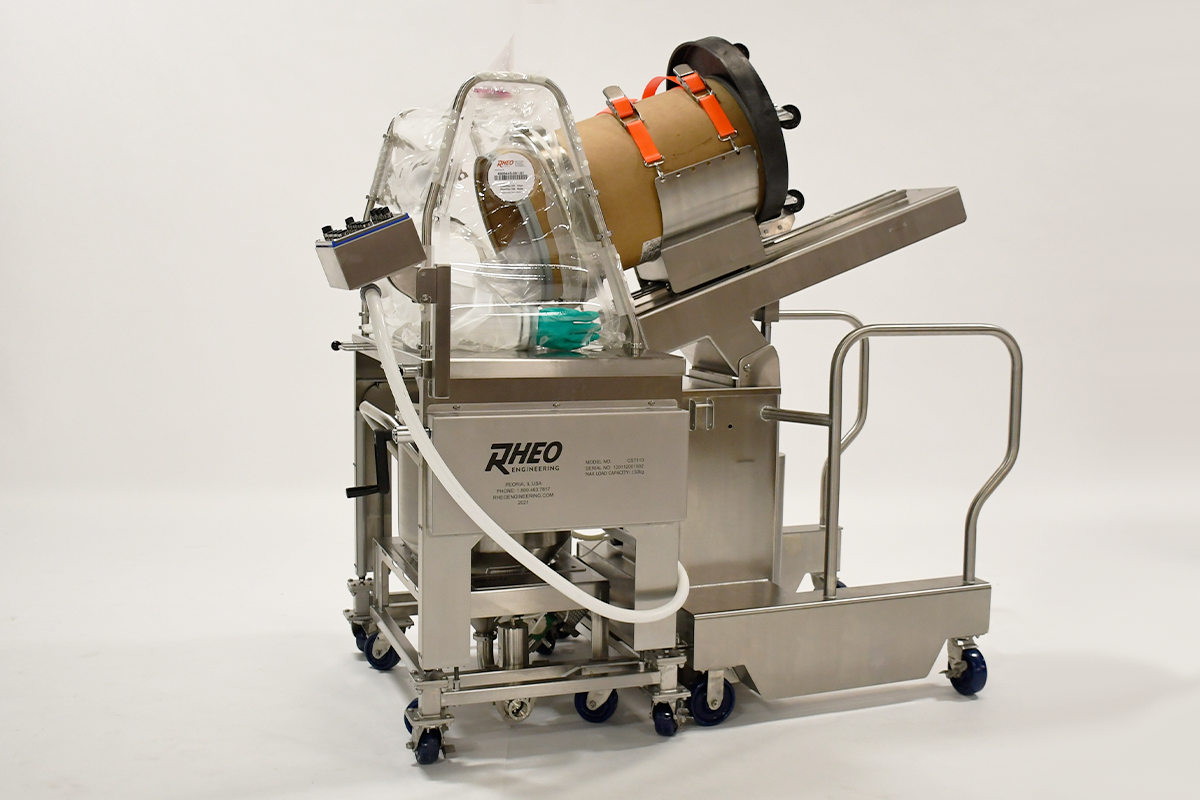 Once known as EHS Solutions to reflect its origins as a safety solutions provider, Rheo Engineering has grown into a vertically integrated material handling company with a new brand name to show for it.
Today, the Illinois-headquartered firm offers a large portfolio of process equipment for the pharmaceuticals industry, as well as integration services to help customers develop effective overall processes. With its single use technology division recently established, the company proudly offers the complete turnkey package in material handling. Pharmaceutical Technology spoke to Rheo Engineering CEO Robert Herrmann to discover more of the company's story.
Q: What is Rheo's background, and what prompted the new name?
The company was started in 1997 as a safety solutions provider. I joined as the company's first engineer in 2003 and focused on product development and application engineering. In 2010, we began our vertical integration by manufacturing many of our own products at our headquarters in Peoria.
In 2020, we renamed the company Rheo Engineering. There was no change in ownership, it was simply that we had grown into a full process technology company and had outgrown the name EHS Solutions. We chose the word 'Rheo' because it is the Greek word for flow, and we are heavily involved in both powder and process flow. We adopted our new name to expand our customers' understanding as to our full capabilities. Once we did that, we proceeded with our plan to vertically integrate our single use technology division.  In March 2021 we introduced Rheo Flexibles.
Q: Why did you decide to launch the Rheo Flexibles division?
Single use products have become an increasingly significant part of our projects. Because of that, we launched the single use technology division branded as Rheo Flexibles. But we want our customers to see the divisions as one company; we are a team of engineers, fabricators and process developers that produce highly engineered innovative process technology and material handling systems.
The details that go into a single use product as it integrates into a material handling system are critical. By bringing that in-house, we can control the design of the product and how it interfaces with our hardware. We also bring some level of innovation to new technologies around using single use products in the pharmaceutical manufacturing space.
Q: Which are the key sectors you operate in?
The large majority of our projects are in the pharmaceutical manufacturing space. We do also work in biotech and with other specialty products, some consumer-based products, cosmetics and speciality chemical, and sometimes in the paintings and coatings industry.
The primary combination of factors that make a project a good fit for us is if it's for a small to medium bulk volume. We typically get up to 2,000kg – 3,000kg of product, and go all the way down to small product handling. Typically, we handle products that are high value or potentially hazardous. We bring a solution to the process that integrates safety, the containment of the powder, and that protects the quality of the product, as well as improves operational efficiency.
Q: What are some of your key products and services for the pharmaceutical sector?
There are two elements to our business. One is product development; we have a large portfolio of machines and products developed by our R&D team. There's a range of containers that we typically work with: big bags, IBCs or bins, drums, and small bags. We develop machines and systems to help our customers take their product from the raw material container and transfer it into the next step in their process.
The application engineering component is the team that works with our customers to develop an overall process solution. The application engineering team uses the products that we've developed, as well as third-party OEM components, and brings them together into a whole system to produce a turnkey material handling package for our customers. 
Q: What about the products offered by your single-use division, Rheo Flexibles?
Rheo Flexibles offers transfer isolators, single use bags, custom isolators, and continuous liners. These flexible, single use products offer a means to both protect the operator and transfer material safely. There are many factors to consider when trying to decide single use vs. rigid systems. This highly depends on the application and by having good solutions on both sides of the argument, Rheo can help our customers make the best choice for the application.
A key value that single use products bring to the market is quick deployment. You can quickly set up a system and know that you're working with a clean container. Such products have allowed us to expand the way we solve both the handling and transport of materials throughout our process. 
Q: What does Rheo provide for customers that your competitors can't?
I'd say the combination of the single use products and the engineered hardware that we have historically provided. Rheo Flexibles enables us to innovate in real-time to develop a single use solution to fit a customer's project perfectly, especially as it interfaces with the hardware side of our equipment.
Most of our competition exclusively manufactures single use. They may have outside firms they work with on the hardware side, but those firms are forced to design the hardware around the soft goods. Rheo is able to design our system as best fits the process and then we design the soft goods to fit that system. The efficiencies that come from having one comprehensive collaborative team working on the project has made us much more responsive in the design and really produces a better product. Another key point is we manufacture all our single use technology in an ISO7 clean space ensuring a reliable GMP product.
Q: What do your customers praise Rheo for at the end of a successful contract?
I think if you ask most of our customers what they appreciate about working with Rheo, it's the fact that we come to the project with a holistic approach to their challenge. We have a wide range of tools in our toolbox and because of that, we're able to be extremely responsive. We are highly vertically integrated, and this allows us to control a  majority of the resource scheduling. The most impressive thing about working with Rheo is probably how quick we are to respond and how much of a collaborative partner we are in developing the solution.
Another key factor is that we can do testing here at our testing centre. We're able to do upfront feasibility review testing and we can use virtual testing to demonstrate how the process might work. Then, we can validate the technology once it has been built with both wet and dry testing. Customers then know the system is going to work once it gets on site.
Q: How would you define your company values?
I fundamentally believe that a company's values are no better than the people that make up that team. Our customers require a high level of trust; integrity, competency, good communication skills, a willingness to be innovative and respond to challenges – those are just inherent values in the people we hire. It's the people at Rheo who make the company what it is.